---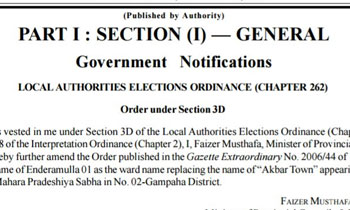 Issuing a Gazette extraordinary on Friday, the government renamed the 'Akbar town' election constituency in Mahara Pradeshiya Sabha as 'Enderamulla 01'.
In the gazette notification, Provincial Councils and Local Government Minister Faiszer Musthapha said the name 'Akbar Town' which appears as name of ward No:31 of No. 16 - Mahara Pradeshiya Sabha in No-02 Gampaha District would be renamed as 'Enderamulla 01'.
The name was changed amending the order published in Gazette extraordinary No.2006/44 of 17th February 2017.