---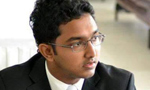 The Scotland Yard is treating the death of Adhil Bakeer Markar, son of Imthiaz Bakeer Markar, as unexplained but not suspicious, the London Evening Standard reported.
Adhil, a member of one of Sri Lanka's most prominent political families was found dead in his room at a London university shortly after going to bed complaining of a fever.
Friends who became worried when Adhil Bakeer Markar failed to answer phone calls battered down the door of his London School of Economics dorm to find him lying unconscious. They tried to resuscitate him but he was pronounced dead at the scene from a suspected heart attack.
Scotland Yard is treating the death, just before 1pm last Wednesday, as unexplained but not suspicious.
Mr Bakeer Marker, 25, had been tipped as a future head of his nation. He was studying for masters in politics after winning a prestigious Chevening scholarship, designed to give future leaders from around the Commonwealth the chance to study in Britain.
Adhil's brother said he sent a message to relatives saying he had a slight fever.
Azam said: "He sent a message to his niece saying he had a slight fever, but he will be ok, god willing, and asked if she was having fun with the new cousin. My other brother's wife had just given birth the day before."
In his final Facebook post last week he said he had achieved his childhood dream of playing cricket at Lord's, in trials for the university team.
Dr Rayes Musthafa, a paediatrician and family friend, said he was at work in the Harley Street Clinic when he was asked to check on Mr Bakeer Markar by concerned relatives.
He found the popular student's friends and a lecturer in the room at Sidney Webb Halls in Great Dover Street, Southwark.
He said: "I saw his body on the floor. His roommates had put him on the ground to perform CPR but it had failed. It was very shocking to everyone. Nobody expects a 25-year-old to die as suddenly as that.
"He had earlier complained of a slight fever and said he was going to take paracetamol. It wasn't a big thing, his death was so sudden. I broke the news to his family on speakerphone from his room, they are devastated. Nobody knows how he died but they think it's a heart attack."
Mr Musthafa said he had been "very active and dynamic. He wasn't a politician yet but was growing into one, many spoke of him as a future leader of Sri Lanka. He was humble, down-to-earth. He had posted a message to his family's WhatsApp group asking to come home, it was his last message".
In 2013, Mr Bakeer Markar — whose late grandfather was speaker of parliament — delivered a passionate speech at the UN urging the island's youth to build bridges between their communities and "heal the scars" of civil war.
LSE's government department has set up a blog page where friends can leave memories and messages of sympathy. Youth charity IVolunteer and the LSE Islamic Society, which the student had been active in, paid tribute to him.
Damith Senanyake, a former classmate in Colombo, wrote: "It is a tragedy that we lost this great man so soon."