---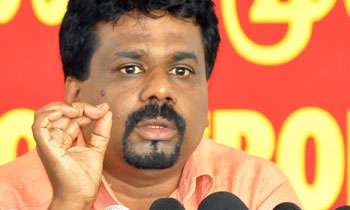 Chief Opposition Whip and JVP Leader Anura Kumara Dissanayake said today President Maithripala Sirisena and Prime Minister Ranil Wickremesinghe reveal their stance on the 20th Amendment on abolishing presidential powers because they had given such a pledge to people.
He said this after handing over the amendment to the Parliament Secretary General last morning.
"The President became the common candidate at the 2015 presidential election on the promise of scrapping the executive presidency. Soon after the swearing-in ceremony he said the 2015 presidential election would be the last such election in the country. He also repeated his pledge to scrap the executive presidency at the funeral of the Ven Maduluwawe Sobitha Thera who was a staunch supporter of scrapping the executive presidency. Therefore, he cannot run away from the pledge he made and the mandate he received in 2015," the MP said.
He said the same applied to the Prime Minister as well who had also pledged to scrap it. "The UNP has passed two resolutions at two of its party conventions. Therefore he too cannot work against the mandate he had received. The Premier cannot change his stance whenever his fortunes in politics change," the MP said.
He said former President Mahinda Rajapaksa should urge the government to scrap the presidency, as he has made his stance clear. The JVP leader said his party was willing to discuss the scrapping of the presidency with all political parties. "However we do not intend to discuss this with those keen on worshiping the executive president," he said. (Yohan Perera and Ajith Siriwardana)