---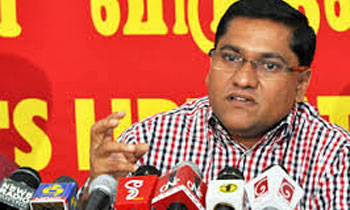 The Anti-Corruption Secretariat (ACS) was to be closed down to save the Corrupted Ministers in both the present regime and the previous Government, the Janatha Vimkuthi Peramuna (JVP) charged today.
JVP MP Vijitha Herath told a media briefing today that there were allegations against both the UNP and SLFP Ministers.
"There are allegations against the newly appointed Governor of Eastern Province Rohitha Bogollagama, against Minister Ravi Karunanayake, against Minister Akila Viraj Kariyawasam on some illegal appointments, Ministers S. B. Dissanayake, Nimal Siripala de Silva, Rajitha Senaratne and others," MP Herath said.
"There are allegations against former Ministers Wimal Weerawansa, Basil Rajapaksa, Namal Rajapaksa and a host of others. Some of them had travelled abroad and had not settled the dues.
"However, they have paid a total sum of Rs. 16 million, when the investigations were going on," he added.
Further the MP charged that there may be plans to close the Financial Crimes Division (FCID) as well.
He said institutions involved in eradicating corruption had received 441 complaints on serious financial crimes during the last two-and-a-half years and 547 complaints on abuse of public property.
"Out of the 441 serious financial crimes, 258 frauds are investigated by the FCID, 43 by CID 148 by the Bribery Commission.
"The statement made by the President and Minister Rajitha Senaratne that ACS was a wastage of funds cannot be accepted, considering the number of complaints," he said. (Yohan Perera)