---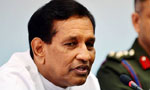 Private hospital charges for surgeries, medical tests, scanning and drugs will be regulated by pricing formula making it affordable to the rich and the middle class while the National Medicinal Drugs Policy will introduced in six months, Health Minister Rajitha Senaratne said.
At a ceremony to mark the opening of the Sports Medicines Unit, the newly constructed Nurses Quarters, the JMO office and the Eye clinic at the Kandy General Hospital, he said the drug shortage was a perennial phenomenon but in reality, the problem was in drug management.
"When I was entrusted with the Health portfolio, I carried out a survey on the drug shortage and I found that 80 varieties of drugs are in short supply at government hospitals at any given time. But with a deeper look at the problem, I realized that when there was a shortage of a certain drug at a certain hospital, that large stocks of the same drug is available at another hospital. The problem becomes a big issue when the media gives wide publicity but nothing is said about the excessive amount of the same drug available at another hospital," the minister said. "We set up a hot line for the convenience of hospital directors to contact the Medical Supply Division (MSD) to obtain drugs at ant time of the day and introduced an online service to exchange drugs between hospitals.
The modernization of drug management and the streamlining of the tender procedure are extremely vital to minimize corruption and delay in drug import, supply and distribution. The newly introduced system has been able to minimize corruption and supply a drug in two months as opposed to the nine months under the old system."
He said the Health Ministry would be further decentralised and many of the institutions that come under the Health Ministry would be given to the line ministries under the Provincial Councils.
The minister said the people were unable to enjoy the benefits of the National Drugs Policy as bureaucratic red tape, the drug mafia and private hospitals have sabotaged it.
Central Province Chief Minister Sarath Ekanayaka, Central Province Governor Neluka Ekanayaka and Kandy General Hospital Director Dr. R.M.S. Ratnayaka were also present. (Sandun A Jayasekera)