---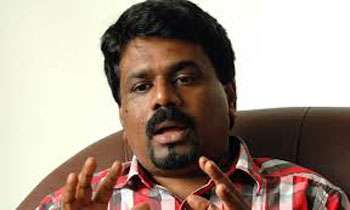 The Janatha Vimukthi Peramuna (JVP) leader Anura Kumara Dissanayake said today they would discuss the 20th Amendment with the President and the Prime Minister only after they revealed their stance on abolishing the executive presidency.
He told a news conference that the JVP needed the support of 150 MPs in Parliament to get this approved and added that President Maithripala Sirisena, Prime Minister Ranil Wickremesinghe and former president Mahinda Rajapaksa should advise their parliamentarians to support this Bill.
"We are ready to have talks with anyone regarding the 20A. We have only six members in Parliament but we need 150 votes to get the Bill approved. The President and the Prime Minister and former president Rajapaksa have repeatedly pledged to abolish the executive presidency. We don't see any point in asking them whether they are willing to abolish it. We will talk to them only about the 20A after they reveal their stance," he said.
Mr. Dissanayake said they had organized seminars with university lecturers, artistes, journalists, civil society groups and professionals to discuss the 20A
"We don't see the 20A as a final document. We are ready to talk with anyone regarding this. We are ready to talk with the Buddhist monks who were against this Bill if they pointed out the matters leading to the division of the country," he said.
Referring to the draft of the 20A, he said the Bill proposed to scrap the extreme powers of the President and assign most of the powers to the Prime Minister, Cabinet and Parliament.
"However, the President under the 20A will retain powers vested on him by the 13th Amendment. His powers on the Public Security Ordinance to declare State of Emergency will also be intact. He cannot dissolve Parliament or prorogue it according to 20A," Mr. Dissanayake said. (Ajith Siriwardana)