---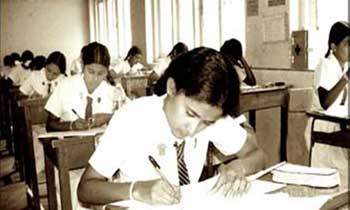 A special investigation had been launched into an alleged incident of leaking of the G.C.E A/L Chemistry question paper prior to the exam, the Examinations Department said.
Examination Commissioner General W. M. N. J. Pushpakumara said that the department had been reported of an incident, in which a private tutor distributed leaflets stating some of the questions in the A/L were discussed in his seminars, before the exam.
It was reported that the leaflets were distributed in front of the Rathnavali Balika Vidyalaya at Gampaha by the tutor's representatives had also asked the students to evaluate the similarities with the exam paper and the seminar tutorial.
Mr. Pushpakumara said the Department had already lodged a complaint to the Police over the incident and investigating the matter whether Chemistry Paper leaked before the A/L examination.
Meanwhile, the Ceylon Teacher's Union (CTU) also charged that it suspected the Part 2 of the A/L Chemistry Question paper had been out before the exam began.
CTU General Secretary Joseph Stalin said that there was a shortage of papers of Part 2 on Saturday (19) at the Padavi Parakramapura examination centre No 1407.
Mr. Stalin said the CTU had also lodged a complaint to the Commissioner General of Examinations and the department should immediately probe into the matter.
"We suspect the paper was out before the examination. The Examination Department should probe the matter and find the responsible. This should not inconvenience the students and justice should be served," he said.
He said a similar incident was reported in 2012, in which another private tutor had given O/L examination science stream paper before the exam, however the Examination Department failed to take stern action against the suspect. (Thilanka Kanakarathna)