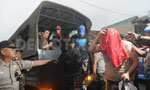 As many as 85 Sri Lankan nationals are being detained in an Immigrant Detention House of Medan, Belawan, North Sumatra, for trespassing Indonesian territory without any legal documents and passports.
"The detained foreign nationals are considered to violate the Immigration Law and some of them are asylum seekers to some countries such as Australia," Head of Medans Immigrant Detention House Purbanus Sinaga said Saturday.
The Sri Lankans are detained along with other 310 illegal immigrants at Medans Detention House.
The immigrants entered the North Sumatra Province through Tanjung Balai/Asahan and Belawan port, Sinaga said.
"They entered Indonesia using wooden boats and have paid a lot of money. However, most of them became the victims of fraud and stranded in Medan," Sinaga said.
Medan becomes a transit post for the immigrants before they continue their voyage to Australia to seek for asylum.
"There are 395 illegal immigrants held in Medan Detention House. And it has been put the house with overcapacity problems," Sinaga said.
The 395 immigrants comprise 26 Afghans, 11 Bangladeshis, 17 Palestinians, 23 Rohingyas. 170 Somalians, 85 Sri Lankans, 17 Iranians, 22 Sudaneses, two Eritreans, one South African, nine Pakistanis, one Taiwanese, and one Nepalese.
(Antara News)