---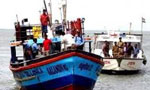 At least 77 Sri Lankan fishermen with 29 fishing trawlers are still languishing in Indian, Bangladeshi and Myanmar custody on charges of illegal fishing within their territorial waters, the Sri Lanka Fisheries Department said.
"There are 40 fishermen and 22 fishing trawlers in Indian custody, 20 fishermen and four trawlers in Bangladesh custody and 17 fishermen and three fishing trawlers in Myanmar custody," Fisheries Department Assistant Director Lal de Silva said.
He also said requests had been made to the respective countries through the Sri Lankan Foreign Ministry to secure their release with funds being given by the Fisheries Ministry.
Meanwhile, Mr. de Silva said most of the fishermen who were stranded in Myanmar were caught in the storm in the seas off Myanmar and Bangladesh in October, but the Myanmar authorities have taken them into custody on charges of illegal fishing.
24 Indian fisherman and 79 fishing trawlers are currently in Sri Lankan custody. Measures will be taken to release them immediately, he said. (Chaturanga Pradeep)