---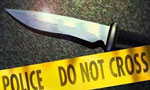 The left leg of a 52-year-old woman had been chopped off below the knee allegedly by her younger brother and his 20-year-old son over a land dispute at Dehigastalawa in Balangoda last evening, the Police said.

The chopped off part of the leg had been recovered by the Police on a roadside in Balangoda.

The victim, a librarian working at Balangoda, had been admitted to the Intensive Care Unit (ICU) of the Balangoda Hospital.

The two suspects had been arrested this morning and were produced before the Balangoda Magistrate today.They were remanded for two weeks.