---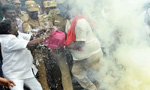 Over 300 people belonging to several organisations were arrested in Chennai for holding protests demanding release of the five Indian fishermen.
The protestors assembled in front of the Sri Lankan Deputy High Commissioner's office in Nungambakkam and staged a protest.
Several leaders at the protest venue alleged that the move was a deliberate ploy of the Sri Lankan Government to target the Tamil-speaking minority.
The judiciary in Sri Lanka was controlled by the government and the death penalty was a move to target people from Tamil Nadu for raising human rights violations in the island nation, they claimed.
Five Tamil Nadu fishermen were among the seven sentenced to death by a Lankan court in connection with a narcotics case.
Meanwhile, in Tirupur, 18 persons were arrested when they tried to burn Rajapaksa's effigy near the railway station. The protest was led by Tamizhaga Vazhvurimai Katchi to condemn the verdict and the Sri Lankan government.
Expressing solidarity with the fishing community, lawyers across Thanjavur district boycotted courts. As part of the protests, the advocates staged protests in front of court campuses. Around 680 lawyers boycotted the court. Similar protests were reported from Kumbakonam, with 448 lawyers boycotting work.
Police in Salem foiled the attempt by cadre of Tamilaga Vazhvurimai Katchi to burn Rajapaksa's effigy. Sources said while a group of cadre was staging a protest near the Head Post Office here, another section brought an effigy of Rajapaksa and tried to set it on fire. However, police personnel on duty foiled their bid. The cadre vacated the spot after raising slogans against Lanka and Rajapaksa.(Indian Express)