---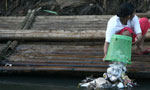 Twenty three persons including 13 women were arrested by the Police Marine Division on charges of dumping garbage into the Kelani and Bolgoda rivers.
Police said Palliyawattha, Moratumulla and Kospelena Marine Divisional officers had carried out the raids and seven persons were arrested while dumping garbage into the Kelani River while 16 persons were arrested at the Bolgoda River.
The arrested suspects who were residents of Hekittha and Moratumulla were released on Police bail and would be produced before Wattala and Mount Lavinia Magistrate Courts on October 22 and 23.