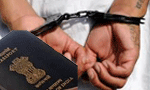 Two Sri Lankans, and one Indian were arrested this morning at Netaji Subhas Chandra (NSC) Bose International airport, Kolkata in India for allegedly trying to leave the country with fake Indian passport.
Police said Kaja Babu and Satheesen, both labourers, came from Bhutan last night with fake Indian passport.
Ankit Pal, a resident of Gujarat and businessman by profession, also tried to leave the airport with fake Indian passport.
Ankit was allegedly assisting the Sri Lankan nationals to leave the country. They were scheduled to fly to Bangkok last night.
Immigration officials, acting on a tip-off, intercepted the three passengers at Kolkata airport and confiscated their passports, air tickets and boarding passes.
Immigration officials found that the passports belonged to some other Indian citizens, whose photographs were removed.
Later, they put fake holograms in the passports, immigration officials said. Immigration officials handed them over to NSCBI police station. The accused were produced at Barrackpore court today and remanded in police custody.
(The Statesman)