---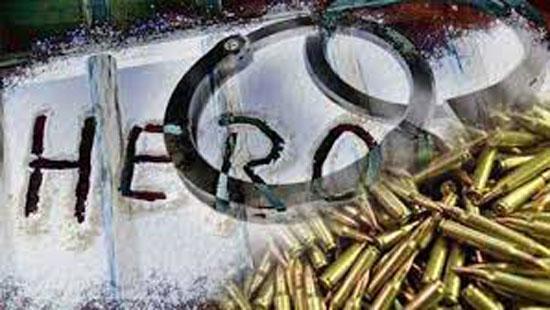 About 177 kgs of heroin worth over Rs.1,800 million, several firearms and a large stock of ammunition were seized from an alleged safe house of Makandure Madush at Rawathawatta in Moratuwa today.
The illegal items were seized during a Special Task Force (STF) raid, Police Spokesman SP Suwan Gunasekera said.
The heroin, firearms and ammunition were recovered from the house of Kelum Indika Sampath, alias 'Kewma', who is currently in remand in connection with the robbery of a diamond worth over Rs.5 billion.
Meanwhile, STF Commandant Senior DIG M.R. Lathiff said they suspected that the raided house was one of the safe houses belonging to underworld kingpin Makandure Madush who was arrested in Dubai in February.
SP Gunasekera said the STF had discovered the two safe houses after interrogating Kewma
"Those houses were rented by the suspect. One house was at de Soyza Road, Rawathwatte in Moratuwa and the other house was located at Keselwatta in Panadura. The diamond was recovered from the house at Keselwatta, Panadura," SP Gunasekera said.
He added that Rs.25,000 had been paid as monthly rent for the house located on the first storey of a building at Rawathwatte by the suspect since July 2018.
Meanwhile, the suspect, Kewma, was produced in the Mahara Magistrate's Court yesterday and was remanded till March 22 over the diamond theft and various other charges, the SP added.
The heroin haul was found hidden in an almirah, a cupboard and inside a big box inside the house.
Accordingly, 164 heroin parcels were found in addition to more than 2,000 small packets of heroin which had been prepared for sale.
Apart from the heroin haul, the police had found one fully automatic machine gun, a pistol made in Japan, 2,803 T-56 type live ammo, 91 live ammo for a nine millimetre pistol, 234 twelve bore FG bullets, one Rambo knife, two sets of handcuffs, identity cards belonging to ten persons and 124 mobile sim cards.
The police suspect the IDs may have been used to purchase the sim cards. Twenty-five mobile phones, one printer, several wigs and Rs.31,830 cash was also discovered.
Further investigations are being conducted by the STF and Police Narcotic Bureau (PNB). (Darshana Sanjeewa)
Video by Sanath Desmond, Danushka