---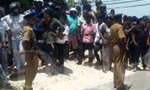 The 130 suspects arrested yesterday on charges of unlawful assembly and the stoning the Jaffna Courts Complex were today remanded by the Jaffna Magistrate.
Police said the suspects were produced in three separate groups on the basis of either have caused injuries, damage to the Court premises and the vehicles parked there or attacking the police personnel on guard duty.
Forty seven of them were remanded till June 1; 43 till June 3 and 40 till June 4.
The protesters who had gathered in the vicinity of the Court premises turned restive when there was a delay in producing the Swiss national who was alleged to have raped and killed an 18-year-old girl at Punguditivu in Jaffna.
(DS)