---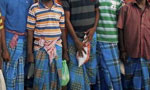 The Chief Judicial Magistrate (CJM) court here on Monday ordered the release of 12 Sri Lankan fishermen, who were apprehended by the Coast Guard on September 30 and arrested by the Taruvaikulam Marine police on charges of poaching in Indian waters off Kanyakumari.
Magistrate T. Jayaraajan ordered the release after the Taruvaikulam police presented a copy of the government order pertaining to the release and informed that it was not interested to proceed with the case further.
The Magistrate directed the prosecution to file a compliance report on or before January 21.
The government on Monday directed the Tuticorin District Collector to release the 12 fishermen, while retaining their two trawlers – Ranga Putha and Sadew Putha — presently anchored at the Tuticorin harbour.
The order followed District Collector's recommendation after a joint integration committee meeting on November 5. Though the Collector had recommended the release of 12 fishermen along with their boats, the government has released only the fishermen.
The Collector said that no contraband or narcotic substances were found in their boats.
The 12 fishermen hailing from Puthalam district in western Sri Lanka are likely to be set free on Tuesday.
U Arulanandham, president of the Alliance for the Release of Innocent Fishermen (ARIF) said "had the government released the boats, the Sri Lankan government would have reciprocated the gesture."
With this, 18 more fishermen arrested by the CG in Chennai are to be released, he said. Their 17 boats were being retained, he added.

TN fishermen released
Meanwhile, in a related development, the Point Pedro court in Sri Lanka on Monday ordered the release of 28 Tamil Nadu fishermen arrested by the Sri Lankan navy on December 9, Mr Arulanandham said.
In all, 43 fishermen, 14 from Nagapattinam and 29 from Karaikal were arrested on that day.
Finding that 14 of the 29 fishermen from Karaikal were from Tamil Nadu, the court ordered their release to reciprocate Tamil Nadu's gesture, he said, adding that 53 fishermen – 26 from Pudukottai district, 12 from Rameswaram and 15 from Karaikal were still in Sri Lankan prisons with 87 boats.