---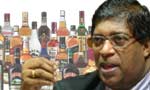 A total of 183 million litres of liquor, marketed under different brands, had been sold in Sri Lanka upto November 1 this year, Minister of Finance Ravi Karunanayake informed Parliament today.
Responding to an oral question raised by MP Dullas Alahapperuma in the House, the minister revealed the fact that 65.2 million litres of Arrack, 5.1 million litres of imported liquor, 100.4 million litres of alcoholic beverages made using different grains as well as 3.8 million litres of toddy were sold during the given period.
He said government revenue from liquor licenses had risen to Rs 84.1 billion in 2015 compared to Rs 69 million earned the previous year.
Responding to a supplementary question raised by Mr Alahapperuma as to why the revenue received from liquor licenses had increased, Minister Karunanayake said the increase in revenues from liquor was a direct result of the government's decision to levy a fee of Rs 15 million when liquor shops were converted into supermarkets.
(Yohan Perera)