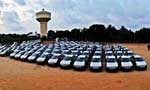 About 1,500 vehicles would be cleared following declarations by the importers from the Hambantota Port, Customs Spokesman Leslie Gamini said today.
The vehicles had been at the port awaiting declarations for clearance following the budget.
"We have received 1,500 Customs declaration for the release of vehicles and about another 1,500 are waiting declarations," he said.
"Most of the vehicles were imported by commercial importers. About 150 individual importers will get tax relief, who used Letters of Credit (LCs) opened before the effective date as mentioned in the 2016 Budget including the five conditions," Gamini said.
According to a Finance Ministry statement the importer should fulfill five conditions -the motor vehicles should have been imported and registered on or before March 31 in the name of the importer under, whose name the LC was opened and shall not be transferred for a period of five years from the date of registration without prior approval from the General Treasury.
(Chaturanga Pradeep)