---
17:53 - Entrance point to Pettah to be made convenient - road to be developed from Kelani bridge up to Pettah
17:51 - Sri Lankan harbours to reach the top 20 habours in the world by 2025

17:50 - Rs. 1500 million allocated to develop Kelanivalley railway line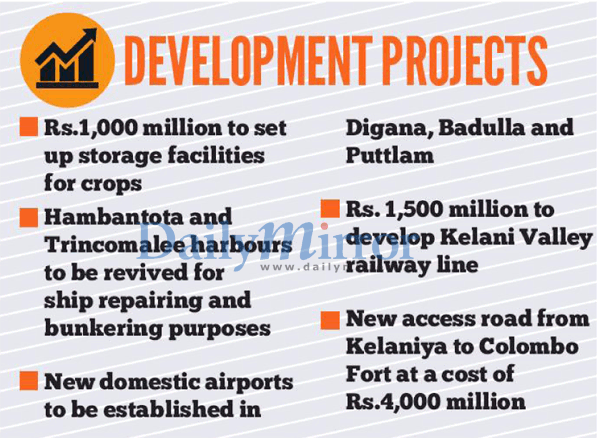 17:49 - New pension scheme to be introduced for new pensioners with effect from 2016

17:40 - National Procurement Committee to be established to streamlime and regulate tender processes

17:38 - Mattala Airport to be converted into a transfer terminal for Air cargo

17:35 - Sri Lankan Airlines total outstading debt is at Rs.157 billion and about 72% accumulated during the previous regime. Guarantees Sri Lankan Airlines will not be politicised and steps would be taken to implement sweeping reforms that would steamline its operations and enhance efficiency

17:32 - New Domestic Airports to be established in Digana, Badulla and Puttlam
17:30 - Special Committee to be set up to manage Katunayake and Southern expressways - private sector encouraged to join
17:27 - Police stations countrywide to be increased from current 425 up to 600
17:26 - Rs. 3000 million for Anuradhapura, Jaffna and Kurunegala hospital development and Rs. 2000 million to construct a specialist hospital for kidney diseases in Minneriya
17:18 - Rs. 6500 million to be allocated to establish a kidney dialysis center

17:17 - Interest free loans to be offered to university students to purchase laptops - Rs. 300 million to be allocated

17:14 - Rs. 3000 million allocated to established Malabe Mahapola University to be established - courses offered include Business Administration, English and Management

17:13 - All undergraduates to receive accomodation facilities

17:11 - Rs. 90,000 million - 5.41% off GDP allocated for education through budget 2016
17:10 - Every student to complete A/L education or receive vocational training after O/L to be made compulsory. Student number per class to be limited to 35

17:09 - Rs. 15,000 million allocated to provide library and IT centers for schools

17:09 - Rs. 250 million to development estate sector schools....

17:09 - Import taxes on books, journals and magazines to be removed.

17:08 - Rs. 4000 million to be allocated to provide sanitation facilities for schools
17:07 - Rs. 2000 million to be allocated to provide accomodation and other amenities for school teachers

17:06 - Continuous training programs to be provided for teachers - particularly for Science, Maths and English

17:05 - Minimum Rs. 2500 salary hike for private sector employees to be provided at two stages - Rs. 1500 in 2015 and Rs. 1000 in 2016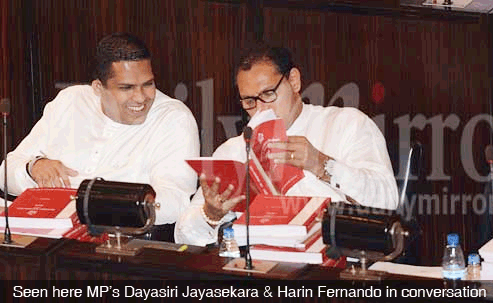 17:04 - Five day work week for private sector employees to be strictly observed


16:55 - A savings account to be opened for every student entering a school with a minimum deposit of Rs. 250 to encourage savings


16:53 - Central Bank has failed in its role during the past years as an indepedant regulator due to politicisation. Finance companies have been vulnerable and government intervention in such cases has cost massively - to find a long term solution financial restructuring agency to be established to recapitalise and troubled assets to be taken over by this agency for the purpose of restructuring.


16:42 - Several banks to be merged to which includes Divi neguma, NSB, Lankaputhra and Regional Development bank to set up a stronger financial institution

16:40 - Import duties to be removed on caravan carriages, yachts, mini boats etc.

Budget 2016 LIVE Import duties to be removed on caravan carriages, yachts, speed boats etc.Live Updates : http://www.dailymirror.lk/budget/96267

Posted by Daily Mirror on Friday, 20 November 2015
16:40 - A Colombo International Financial Center and a Commercial Court to be established. A special zone to be reserved in the D R Wijewardena Mawatha and would be ready to commence by 2016

16:39 - All hotels mandated to be registered under the Tourism Development Authority by 1 June, 2016 to develop a regulatory mechanism.
16:37 - An exhibition center that can house about 200,000 sqft to be constructed near parliament. Theme park construction to be encouraged in order to expand economic activities.

16:36 - Liberalisation of foreign currency exchanging business subject to regulations.

16:33 - MICE tourism to be encouraged - a new, state-of-the-art convention hall to be constructed that would cost Rs. 3000 million

16:31 - Vocational training to be provided to contrustruction workers - about 7500 youth to be trained. Rs. 500 million allocated for the scheme

16:29 - Construction material import taxes to be reduced

16:28 - Foreign contractors encouraged to work with local contractors

16:26 - Use of solar energy to be encouraged

16:23 - 100,000 housing units for families living in shanties, 150,000 housing units for middle income families and 5000 housing units to be constructed for the use of senior public sector employees

16:22 - Rs. 500 million to be allocated to set up an electronic database of lands

16:18 -Foreign reserves expected to rise up to Rs 10 billion by end of June 2016

16:17 - Rs. 50 million to set up an import/export bank that would be operational with effect from 2016


16:13 - Proposal made to utilize Hambanthota and Trincomalee harbours as sites for ship repairing, bunkering purposes


16:12 - Invites Sri Lankans to moved their movies out of the country due to various reasons, to bring it back to SL to be used in development and the necessity of Securities Investement Account to be removed

16:08 - 50% tax reduction for five year period for any company setting up a business

16:02 - Land lease taxes on foreigners removed to promote investement. Agency for Development to to be established

16:01 - National Digital Identification to be introduced to countrywide with effect from January 2016 through which a national digital transaction system will be implemented.

16:00 - Exportation and agircultural zones to be established


15:59 - 50 licenses to be issued for Gold importation

15:58 - 2 billion USD market expansion expected in the jem and jewellery sector

15:57 - Rs. 4000 million to be allocated for three years to be environment sector to resolve human-elephant conflict and conserve the rich bio diversity in SL

15:54 - Rs. 1500 million allocated per village to develop them as economic centers to encourage the production of spices etc.

15:51 - Tea blending to be liberaralised without impacting the Ceylon Tea brand
15:50 - Rs. 100 million to be allocated for development of rubber industry research

15:47 - SL being a location free of bird-flu has opened up export markets for poultry, particularly in the Middle Eastern region
15:45 - Rs. 750 million allocated for the development of Chilaw, Mirissa, Kalmuniai, Karainagar Poornawella habour development
15:44 - Rs. 125 subsdiary price for canned fish and Rs. 300 million to be allocated to laksathosa to implemented the proposal

15:43 - Rs. 1 million insuarance scheme for fishermen
15:37 - Rs. 25,000 to be given per hectare to farmers instead of the fertilizer subsidy
15:36 - 44,000 metric tonnes of rice to be used in a scheme aimed at reducing malnutrition among Samudhi beneficiaries

15:34 - Rs. 1000 million allocated to set up storage facilities across the country including Rathnapura and Mannar, for crops to remove negative impacts of the involvement of middlemen

15:32 - To encourage production of high yeilding seeds, companies that promote green house technology and drip irrigation to be provided a 50% tax cut. Taxes on equipment used for such ventures to be waived off

15:31 - To be self sufficient in certain crops in the agriculture sector including chillies and corn - to commence expotation of these crops by 2020.

15:24 - Incubators to be set up in mini industrial parks across the country and private sector companies invited to operate them. A three year tax cut of 50% to be granted.

15:21 - Micro, small, medium enterprise that includes sectors such as furniture, IT, diary products, landscaping, flowers, fisheries etc face issues in obtaining loans to develop businesses. To solve such issues an Act governing micro, small and medium enterprises will be introduced through which a regulatory board will be established.

15:13 - Public sector transportation to be developed
15:11 - Government and private sector collaboration to initiate housing projects for low and middle income level families
15:10 - Measures should be taken to ensure rapidly increasing cancers, kidney disease and dengue epidemic cases are minimized
15:10 - Aging population should be provided with healthcare schemes.
15:07 - Modernisation of education sector needed - students' life skills and independant thinking should be nurtured. Exam centered education system should be replaced with a skills-centered scheme.
15:05 - Trend of low level of private investments which was at about 22% during the past few years, has to be changed
15:02 - Measures should be implemented to organise and manage the rising pension payments owing to the rise in aging population
15:01 - Productivity, skills and effeciency of public sector should be improved.
14:56 - Majority of those who can afford to pay taxes are not incldued in the present public taxing schemes

14:55 - Outdated regulations included in a majority of the 35 varieties of taxes and other service charges imposed on people at present
14:51 - Debt servicing resulted due to exobitant amounts of foreign debt obtained by previous regime, has imposed a limitation in spending
---
14:47 - Although it was made to seem as if SL had achieved a fast paced economic growth during the former government- the country was in fact saddled with a large amount of foreign debt
14:46 - Sri Lankans should take into account the famous words of US President John F. Kennedy - "ask not what your country can do for you--ask what you can do for your country."
14:42 -Our hope is not to allow those guilty to escape scott-free but to ensure they are reprimanded for their actions
14:40 - Although development projects commenced during previous regime, they were carried out in violation of due tender procedures and principles of good governance, lacking transparency
14:39 - A former cabint minister's fast unto death before the UN compound in Colombo and the former President's response to it damaged foreign relations. We lost foreign assistance and GSP+ was deprived. It plunged SL into an economic crisis systematically
14:29 - Sri Lanka has fallen prey to a massive economic crisis - low income situation
and unemployment to increase. Therefore striking a balance is vital
14:27 - Minister Karunanayake speaks on the economic policies followed by governments since Independance and their impacts on the country's economy, in his initial opening remarks
14:17 - Some of the main necessities including lands, housing, education and health are some aspects that have been addressed through Budget 2016
14:16 - Several medium term aims recognised to bring positive effects to the country's economy to which includes generating 10,000 employement opportunities, elevate income levels and stregthen media
14:13 - Our aim and hope is to bring the benefits of good governance to people from all strate of society
14:12 - Former government should be praised for the measures it took to eradicate terrorism
14:11 - Schemes to eradicate poverty was polititcised and those in need of its assistance deprived of the benefits during previous regime
14:11 - Future of a country is at stake if its economic policies are misguided; Sri Lanka entered this zone due to errant economic policies followed by former government
14:09 - Although isolated in the international community during previous regime, during the past few months we have received positive responses due to the measures taken to reinstate democracy in the country
14:03 - Finance Minister Ravi Karunanayake starts reading Budget 2016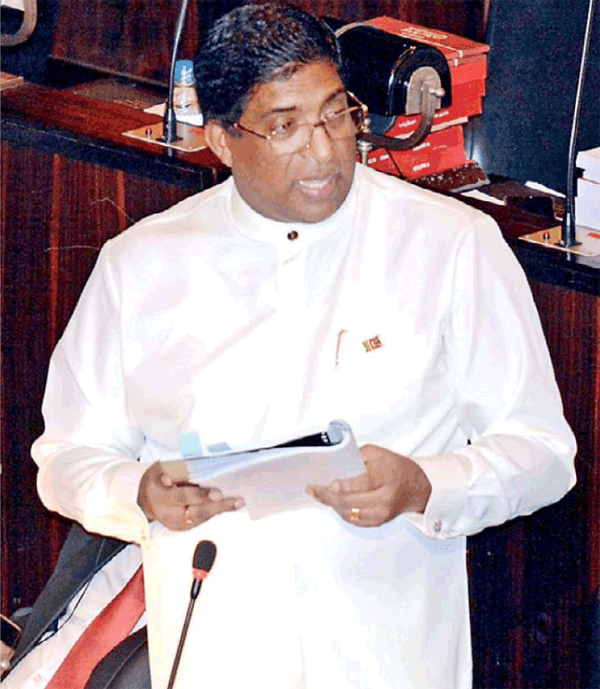 14:04 - This budget will mark a milestone in the history of Sri Lanka