---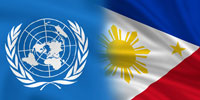 MANILA, AFP, Aug 21, 2016 - President Rodrigo Duterte threatened on Sunday to withdraw the Philippines from the United Nations, as he launched another profanity-laced tirade against the organisation for criticising his bloody war on crime.
More than 1,500 people have been killed since Duterte took office and immediately began his law-and-order crackdown, according to police statistics, triggering fierce criticism from the UN and rights groups.
Duterte, a lawyer famous for an acid tongue who has repeatedly told the UN not to interfere, on Sunday stepped up his rhetoric against the organisation.
"Maybe we'll just have to decide to separate from the United Nations. If you are that disrespectful, son of a whore, then I will just leave you," Duterte said in a press conference in his home city of Davao.