---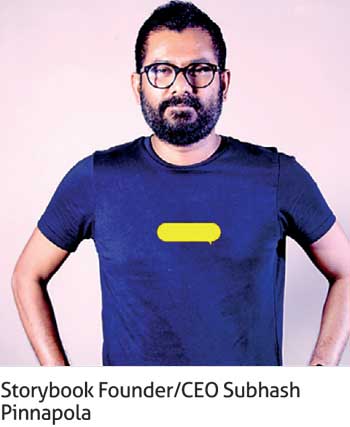 Subhash Pinnapola, a veteran with 25 years of experience in the advertising field and arguably Sri Lanka's most awarded creative leader, will be launching an independent Creative Company, Storybook; with a vision to usher in a new era in ad industry.

Subhash has been in the forefront of operations at network agencies such as O&M, JWT and LOWE, and was the Executive Creative Director at Leo Burnett and Chief Creative Officer at TBWA before finally making a move to establish an independent agency.

"Storybook will be the first independent creative agency of its kind. As the name suggests, we have a distinct approach to commutation that's based on emotional engagement with our people. In today's world, the consumer is not obliged to listen to our brand messages unlike in the old days. The modern consumer is empowered and highly intelligent. Our specialty is creating powerful stories that connect people with brands. We build brand stories as appropriate for people and culture. Storybook will turn the pages of a new chapter in Sri Lanka's advertising in this regard," said Storybook Founder/CEO Subhash Pinnapola.

As one of Sri Lanka's most celebrated Creative Leaders, Subhash's long journey in advertising has been impeccable. With a creative mind that is firmly rooted in the local culture, consumer bahaviour and insights, Subhash has churned out brand stories that connect with people and has been consistently awarded at top international ad award shows such as Cannes, Spikes, Adfest, Appies, Adstars, AME, Epica, Midas, AWARD, Cristal, Sharks, Davey, Cresta and ONE SHOW.
Subhash's accomplishments have raised the bar of Sri Lankan advertising and helped put Sri Lanka on the world map, earning reputation for the country on international stage. Subhash's many achievements have also earned him the esteemed membership of the jury panels at some of world's most prestigious ad award shows.

"We are a young creative company with a wealth of experience. We are driven by a passion for what we do. We combine this wealth of knowledge and passion with a vision to produce top class creative work for our clients. Work that's on par with international standards that has helped Sri Lanka create a name for itself on the global arena whilst delivering results for our clients. We bring a new approach and a fresh change to our clients' businesses," Subhash added.

Storybook's distinctiveness as a creative company is in its commitment to go beyond the traditional agency-client relationship and be part of the client's business. Storybook believes in feeling the breath and pulse of the client's business in order to delve into the consumer base and engage with them on a more human level. "Storybook will act as the watchful eyes and the ever resourceful creative mind for our clients' businesses, always observing, analysing and generating creative ideas to engage with consumers in the most effective way. We shoulder the responsibility of growing the client business and see it through to success," Subhash further added.