---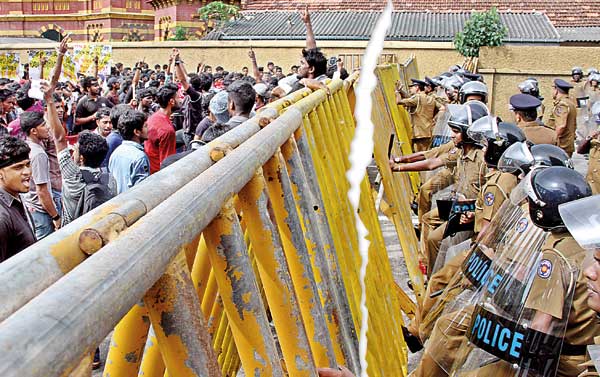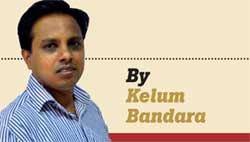 Higher Education Minister Lakshman Kiriella in an interview with Dailymirror over the phone, spelt out the Higher Education policy of the new Government, an approach different to the previous Government in some aspects.





What is your assessment on the present status of the higher education in the country?


Today, the higher education institutions are centrally controlled by the Government. As a result, all these institutions have lost their individualities. There is no free thinking. They are just following the Government guidelines. The UNP-led Government thinks quite differently. We want to give autonomy to the universities so that the respective Vice Chancellors and the Councils run them. The Government would lay down policies and provide finances. But, the actual running of the universities should be done by the Vice Chancellors and the Councils. That is how in other countries they have very good universities. There are a lot of free-thinking, new ideas and intellectual discourses which are lacking very much in our universities.

In fact, when the 19th Amendment was discussed, it was proposed to make the Universities Grants Commission and Independent Commission. It was the UNP standpoint. However, it was dropped during further discussions. When the new constitution is drafted next year, the new Universities Bill, ensuring autonomy to the universities would be brought in.





When you say autonomy to the universities; does it mean they even admit students on their own?


It is not like that. All the decisions pertaining to the academia should be taken by the universities. Recruitment of lecturers, developing links with foreign universities, and conducting students' exchange programmes etc., have to be done by them. The day-to-day running of the universities should be done by them. Students would be given facilities including accommodation. We are giving them responsibility. Giving autonomy does not mean the Government is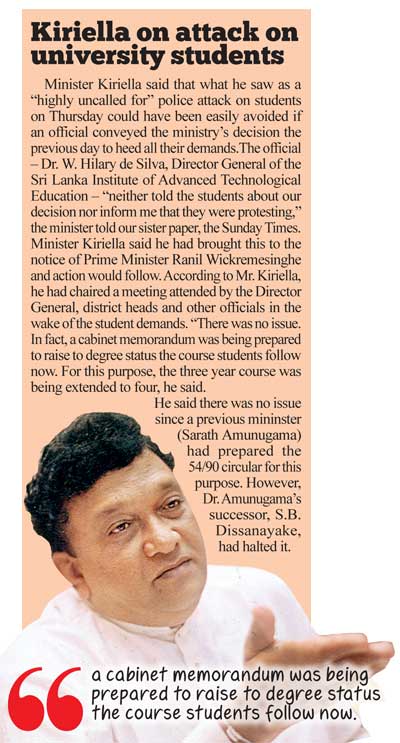 looking completely the other way. We, the Government, would keep a watchful eye. It is only day-to-day running. Then, there would be competition among the universities for success and to be the best in the country. In the developed countries, such healthy competitions exist among their universities to be the best in agriculture, law, medicine etc.





Today, around 100,000 students qualify for university entrance. But only, 20,000-25,000 of them are accommodated due to the limited facilities. How are you planning to increase the intake?


Merely increasing the intake does not solve the problem. Graduates passing out should be employable. Most graduates are unemployable. They do not have the necessary knowledge and skills to be employed elsewhere either at the State or the private sector. So, action has to be taken on the improvement of skills.





Alongside, will the intake be increased?


Of course, we are putting up Faculties of Technology as I mentioned earlier and would gradually phase out degree programmes that are producing unemployable graduates. We have to look after 80 percent of students who do not enter universities despite being qualified. The Government is discussing it at the moment. The only solution is to open new higher education institutions with the co-operation of the private sector. We have to do it in such a manner that the graduates from the State universities are not discriminated. We strongly believe that the private sector input is needed to the university system. That is how it happens in India and in most of the developed countries.





Do you have any plan to change the present selection criterion based on Z-scores of students?


It has come to stay for some time. I do not think we can do anything about it.





The previous Government planned to establish non-State universities. What is your policy about it?


We are not against it. Several foreign universities have expressed their desire to invest in Sri Lanka. We have not given the green light yet for them to put up their branch campuses here. In the coming months, we would discuss it at greater length. The Sri Lankan students should not be discriminated. Of course, competition is very high in Sri Lanka, and 80 percent of qualified students are left out. Most of them go abroad for higher studies. We lose valuable foreign exchange as a result. We would discuss it with all the parties. We want a national education plan.





Already there are private degree-awarding institutions in the country. How are you going to regulate them?


We are planning to establish an authority to regulate them. We are drafting a Bill in this respect. We have almost completed it and to get the concurrence of all the other parties to present it in Parliament.





What are you planning to do with the leadership training programme introduced by the previous Government?


We will do away with physical exercises. Yet, we would provide them other skills such as proficiency in the English language, IT depending on the degree course they choose to follow. We would not have a standard programme for all the universities. Each university would be asked to design on it. Also, we want to introduce a programme targeting university entrants against drug the menace. We have already had talks with the National Dangerous Drugs Control Authority in this regard. We have to educate students regarding the dangers of drug taking. In certain universities drug use is rampant.

The most important thing is to give free thinking to the university community.





What is your comment on the attack on HNDA students?


I do not condone the attack on students. Today there is the Independent Police Commission to look after the police. So, it is not appropriate to blame the Government. Anyways, there was no need for the students to protest. We were taking steps to solve the problem.





How do you deal with the students' union activities?


I have told the Vice Chancellors that our most valuable assets are the students. They are the future of the country. One must see that they are looked after well. They have to be taught properly with modern curricula. We would promote sporting activities among the students. They should engage in sports.

We have increased allocations for the education sector by four times. The higher education budget has been increased by 75 percent. Funds are not a problem as a result. The universities have to be run by the Vice Chancellors.

We want to modernize the university system. It is up to the universities to update their curricula. It is said that our curricula are out of date. That is the accusation by students. They have to be upgraded.



---
Dealing with Dissent;
Tell us how the govt plans to deal with protests in future



With criticism from many quarters over the police behaviour dealing with protesting Higher National Diploma in Accountancy (HNDA) students on October 29, a group of well-known academics, civil society activists and artistes expressed their dismay over the incident and have criticized few other incidents that were critical for the new Yahapalana Government. Most importantly, most of these academics were directly and indirectly supporting to topple the previous regime and establish this Government. Following are the excerpts of the statement.

We had witnessed close-to-a-decade of increasing authoritarianism, the shrinking of democratic space and a culture of violent suppression of dissent under the defeated Rajapaksa regime. We intervened because we wanted to see tangible change. We were, however, not so naïve as to expect a complete change in the political culture of the country and were therefore not so surprised at the appointment of a jumbo Cabinet, or the nepotism that was creeping back into the functioning of the Government, but we did have some minimum expectations from a new regime that campaigned almost exclusively on the theme of 'good governance' and a President and Prime Minister who repeatedly preach the mantra of democracy and good governance.

The October 29, 2015 events, where the Police unleashed a brutal attack on a group of students seeking an opportunity to discuss systemic problems in the higher education sector has led us to seriously question whether the current regime is capable of meeting even our minimum expectations. What happened at Ward Place last Thursday (29) is not an isolated incident. It appears to be a part of an emerging trend in how the incumbent Government deals with dissent. There were several similar attacks on protesting students, people protesting on various issues such as lack of drinking water etc., post January 8 – though none probably match the brutality of this attack which left at least one student seriously injured.

The Sri Lankan Police Force, conditioned by decades of use and abuse by the political establishment, is no stranger to violence. The violent Police reaction to student dissent, therefore, is no surprise. However, we believe that the police does not and would not act the way they did on October 29 unless there was a 'go ahead' from the political establishment. There is then clearly an element within the present government that feels democratic dissent is a threat that must be suppressed swiftly and violently. The bitter incidents and the images and the sounds of desperate students cringing in fear and being violently beaten, suggests that there is little to differentiate this regime from the previous one – after all, the previous regime took several years to arrive at its violent undemocratic destination while this regime seems to have achieved the same in the space of a few months.

We would like to remind the Government that through its co-sponsored resolution at the UNHCR it has made an international and highly visible commitment to investigate historical human rights abuses in this country and that all eyes are on Sri Lanka at the moment. Various Government representatives have been busy marketing Sri Lanka's 'good governance' brand globally at various international forums. In such a context, is this how the Government is attempting to prove its democratic credentials? If students protesting about the restructuring of an academic programme and asking for more student welfare are treated in this way, what does that say about how the government will treat those who pose a more significant threat to it politically?

We, the undersigned, demand that the newly established National Police Commission immediately conduct an investigation in to this incident while appreciating the proactive action taken by the Human Rights Commission which has stated that it would conduct an investigation. At the same time, we stress the need to conduct these investigations impartially and make their findings public and that police officers, and those who issued orders to the police to act the way they did, are held publicly accountable. In addition, we demand that the President and Prime Minister reveal their stance on how the Government plans to deal with dissent and public protests in future and explain to Sri Lankan society how they plan to prevent incidents like this from being repeated.

Prof. Jayadeva Uyangoda, Prof. Arjuna Parakrama, Prof. Sumathy Sivamohan, Prof. Neloufer de Mel, Prof. Asanga Thilakaratne, Prof. Rohan Fernando, Prof. Priyan Dias, Dr. Prabhath Jayasinghe, P. Seneviratne, N.G.A Karunathilaka, Dr. Shantha Abeysinghe, Dr. Harshana Rambukwella, Dr. Harini Amrasuriya, Dileepa Witharana, Mihiri Jansz, Amali Wedagedara, Kaushalya Kumarasinghe, Hansini Gamlath, Roshan Manjula, Anushaya Collure, Dr. Shamala Kumar, Dr. Asha Abeyasekera, Dr. Pradeep Peiris, Kumudini Samuel, Sarala Emmanuel, Dr. Danesh Karunanayake, Dr. Shyamni Hettiarachchi, Dr. Janaki Jayawardene, Balasingham Skandakumar, Athula Kumara Samarakoon, Dr. Dhammika Herath, Upul Wickramasingha, Thiyagaraja Waradas, Dr. Nirmal Ranjith Devasiri, Dr. Malathi de Alwis, Dr. Primal Fernando, Dr. D. H. S. Maithripala, Dr. A. Manipura, Dr. Liyanage Amarakeerthi, Dr. J. W. Hewage, Kasun Pathriaja, Dr. Rangika Halwatura, Dr. A.W. Wijerathna, Dr. Suren Raghavan, Ms. Sewwandi Alawaththa, Maheshika Sakalasuriya, Swasthika Arullingam, Parakrama Niriella, Ruwanthie de Chickera, Dr. Sunil Wijesiriwardane, Nadie Kammallaweera, Ananda Galappatti, Dr. S. Arivalazagan, Dr. J.Sivagnanam, Chandragupta Thenuwara, Anurudda Pradeep Karnasuriya, Sithumini Rathnamalala, Ahilan Kadirgamar, Kalpa Rajapakshe, Sakuna M. Gamage, Niyanthini Kadirgamar, Ravi Tissera, Lakmali Hemachandra, Damith Chandimal, INFORM Human Rights Documentation Centre, Vijayananthan Thusandra, Harshana Nanayakkara, Dr. Pavithra Kailasapathy, Dr. Kaushalya Perera, Dr. Paikiasothy Saravanamuttu, Ranmali Mirchandani, Marisa de Silva, Jake Oorloff, Kamani Jinadasa, Shanthi Dias, Prashani Rambukwella, Sampath Samarakoon, Kumari Kumaragamage, Chinthaka Rajapakse, Brito Fernando - Convenor, Upul Kumarapperuma, N.V. Nugawela, Luwie Ganeshathasan, Sandya Ekneligoda, Chandana Pathirana, Jagath Siriwardena - Activist, Lal Lakshman, Ruki Fernando and Gayani Yapa.