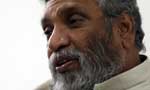 Elections Commissioner Mahinda Deshapriya said that parliament was responsible for the enactment of laws for the benefit of the people, but that the very people who were hoping to enter parliament were breaking the law during this election period.
During this election, police were enforcing the law properly. But some seemed to be displeased by this and criticised the officials saying they were implementing laws that were never in existence, he said.
He made these observations during an awareness programme held in the auditorium of the Chilaw Divisional Secretariat and organised by the Sri Lanka Human Rights Commission, to educate the OICs and senior police officers of the North Western Province about the duties of the police -- in order to ensure a free and fair election .
He asked the police not to hesitate to use appropriate force when necessary, irrespective of the party concerned, and whether it was led by Mahinda, Ranil, Anura Kumara or Sampanthan.
"Can we go to the Human Right Commission when we are obstructed in the pursuit of our duties?" Mr. Deshapriya asked, noting the complaints to the HRC against school principals who had punished their pupils. "The Human Rights Commission should look into matters that affect our rights as well," he said.
"Some ministers have complained to us about drunken police officers dismantling their election offices and assaulting their supporters. We should try to avoid such complaints and enforce the law impartially,". he said.
"Police powers prevail during an election period. Use them properly at the proper time, as you have been empowered to do by parliament. Regrettably those who hope to enter parliament also break the law," he said.
"By 8.00 am on Friday all the elections offices of the candidates, excepting one office for each candidate in a district, should be closed. Up to the 18th, posters and banners may be displayed only at these offices, he said.
He told the police and elections officers to remove any unauthorised posters (carrying pictures of politicians), in their entirety, instead of mutilating them. "Ensure a law abiding country for our children," he urged the police.
Ravi Wijegunawardena, Senior DIG (North Western and North Central Provinces) and Nimal Punchihewa, legal advisor to the Human Rights Commission, also spoke.
(Augustine Fernando)