---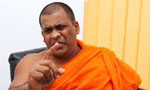 The Bodu Bala Sena (BBS) organization today alleged that the Central Bank and some other commercial banks were promoting religious banking in Sri Lanka in various ways and that it was not a good trend.
"We have received information on the fact that the Central Bank (CB) and several commercial banks are engaged in introducing religious banking," BBS General Secretary Ven. Galagodaatte Gnanasara said.
Ven. Gnanasara Thera said it was not a good phenomenon to introduce religious principles to systems such as banking, insurance, economy, and trading and added that it could affect the reconciliation and unity among people.
Several banking systems such as Shariah banking, Halal Banking, Islam Compliance banking were not relevant to the Sri Lankan Banking system, he said.
(Chaturanga Pradeep)