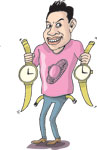 Following recent social media reports that MP Namal Rajapaksa owned a luxury watch collection, the former President's son denied owning more than two watches.
When contacted by the Daily Mirror, Mr. Rajapaksa said that these were simply rumours that were circulating on social media and websites.
"I don't own such a luxury watch collection. I own just two watches and they were also gifts from family and friends. I have not bought myself a watch for several years now," he said.
Commenting on the photos that seem to show him wearing at least eight different luxury watches on different occasions, amounting to several millions of rupees, he said they were fabricated photos.
"In all these photos, it is the same watch that I am wearing. But they have made it seem like they are different."
He further added that it was simply gossip circulating on social media and not an issue of national concern.
(Shihara Maduwage)