"Educated Sinhala Buddhists contributed to our victory"
- Champika Ranwaka
---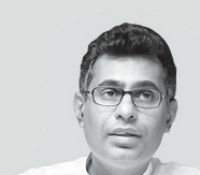 Former Minister and Jathika Hela Urumaya (JHU) General Secretary Patali Champika Ranawaka said that it was the educated Sinhala Buddhists that contributed to the victory of the common candidate Maithripala Sirisena. "The Rajapaksa regime abused state property shamelessly, they bought over the media, they ran a huge campaign to sling mud at the opposition by spreading lies and false rumours and they tried to scare the people by saying that the common opposition would give way for the LTTE to rise again. They even used military personnel for this. They behaved in a shameless manner but in the end, the people decided to end that era," he said.

Ranawaka said that he was thankful to the educated Sinhala Buddhists for electing Maithripala Sirisena to end corruption and bring good governance to the country. Asked about the Muslim and Tamil votes, he said, "We got 56 lakhs of votes. It is true we got the majority in the North and East but the major portion of the total votes were not Tamil and Muslim votes, but Sinhala Buddhist votes. If we won by getting the Tamil and Muslim votes, then even Sarath Fonseka could have won in 2010. I am happy that the educated, professional Sinhala Buddhists of this country stood by us and led us to a phenomenal victory," he said. He added: "We should expel this corrupt family and dedicate ourselves to ending corruption. That should be the priority. They tried to manipulate the polls to their advantage by misusing and abusing their power and state resources. They tried to throw their money and fool the people. But the people proved that they cannot be fooled anymore.

We don't even want Mahinda Rajapaksa's shadow to fall on the country anymore." He also said that after swearing in Maithripala Sirisena as the President, a new Cabinet will be formed under a new Prime Minister after which a national unity government would be formed. After this the 100-day progamme would be implemented and then Parliament will be dissolved and a general election would be held. "We need to immediately impeach the Chief Justice as he is extremely corrupt and politicised. We will also make the Defence Ministry more independent. We will conduct investigations and punish white collar criminals and the fraudsters. We will take necessary action against those who have bought over state and private media," Ranawaka said.