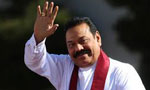 A survey carried out by the Kelaniya University today predicted 53 per cent of the votes for President Mahinda Rajapaksa and 44 per cent for Common Opposition Candidate Maithripala Sirisena at the January 8 presidential election with a five per cent margin of error.
Kelaniya University Mass Communication Department Head Professor Rohan Lakshman Priyadasa said they had conducted the survey in two stages.
"In the first stage, we conducted a survey to find the most popular political leader as a pre survey to the presidential election and it was done before handing over nominations. At the second stage we collected and data from 5,000 individuals from the records of the Census and Statistics Department during a one and half month period based on a scientific method. The data was collected considering the ethnic composition, gender, age and occupation representing all the areas of the country," the Professor said.
A questionnaire was prepared for people to answer freely in both Sinhala and Tamil.
Of the 5,000, five percent did not answer the questions. According to gender the results the poll is as follows: Thirty one per cent of females favoured President Mahinda Rajapaksa while 16 per cent favoured Mr. Sirisena; twenty eight per cent of males favoured President Mahinda Rajapaksa while 17 per cent favoured Mr. Sirisena.
Professor Piyadasa said they tabulated the data according to an accepted and reliable scientific process and arrived at the final result which has a five per cent margin of error.
The research team headed by Professor Priyadasa comprised four others including lecturer Dammika Bandara Herath.
(Chaturanga Pradeep)


WATCH