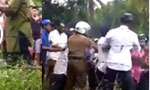 A large number of the artistes today condemned the attack on a group of young artistes by political goons in Kurunegala and said the current regime had created a 'Disneyland' for people.
"The Rajapaksa regime has created a Disneyland for people with many promises. They are scared when the truth is revealed. The artistes were attacked because they exposed the true nature of this Government," an artiste said.
The artistes told a news conference at Pitakotte that it was pathetic to see the plight of local artistes.
They accused the Government of organising lavish celebrations to welcome Bollywood artistes while local artistes were being assaulted with government backing.
Singer Indrachapa Liyanage said the attack was not a sensitive matter for the President.
"Worse things have happened in the past but no action has been taken. So yesterday's incident too will not be a sensitive matter for the President," he said.
Goons led by North-Western provincial councillor Kamal Indika and members of the 'Nil Balakaya', are alleged to have attacked a group of young artistes' calling themselves the 'Aluth Parapura' while they were performing on a mobile stage in Kumbukgate on Monday
.
Some members of the 'Nil Balakaya' were seen loitering around the vicinity of the news conference.
(Chathushika Wijeyesinghe)