---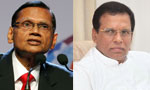 External Affairs Minister G.L. Peiris today said the common opposition candidate Maithripala Sirisena should clarify the nature of the panel he would appoint to probe into war crimes charges against the military forces.

The minister said the foreign media has announced reports that Mr. Siripala was intending to appoint a judicial panel to investigate war crimes charges against armed forces personnel.

"This is a matter that will have far-reaching consequences. A clear statement is certainly required from the opposition candidate with regard to the nature of the investigation which he proposes to undertake, the powers and scope of the tribunal he plans to appoint, and the use he plans to make of the findings," he said.

He said the Opposition has said that they will adopt a totally different approach to the international investigation against Sri Lanka. The Minister said that China, India, Russia, Japan, Arabian countries with a majority of Asian and African countries had declined to support detrimental probes against Sri Lanka.

"The country has a right to know whether Mr. Sirisena is prepared to make compromises on this vital issue for narrow political gains. He seems to be under the mistaken impression that we are in no danger simply because Sri Lanka has not signed the Rome Statute. But recent experience shows that countries which are not signatories, can also be vulnerable," he said.

He said Mr. Sirisena in trying to please those who are continually exerting pressure on Sri Lanka, appears willing to sacrifice the country's vital interests and the safety of the Armed Forces, to help himself at the election.