---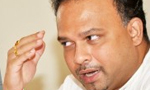 Minister of Public Management Reforms Navin Dissanayake has resigned from his Ministerial portfolio and said he had decided to support Common Opposition Candidate Maithripala Sirisena in the forthcoming Presidential Election.

Mr. Dissanayaka told Daily Mirror online that he would meet Mr. Sirisena and will announced his decision in a media conference at the Opposition Leader's office tomorrow.

He said has sent his letter of resignation from his Ministerial post, to President Mahinda Rajapaksa last night.

In the letter Mr. Dissanayake said that he had resigned from his Ministerial portfolio and from all positions held under the government on a policy decision.
He had cited many reasons for his resignation.

"I could not implement what I wanted as the Nuwara Eliya MP. The funds needed for work was not allocated as per my requests," he said.

He said he would join with people who were working towards the abolition of Executive Presidency. (DS)
I want to defeat this evil and corrupt system
Interviewed by Hafeel Farisz

Cabinet Minister of Public Management Reforms Navin Dissanayake who resigned and extended his support to the Common Presidential candidate Maithripala Sirisena yesterday said that he would commit himself to fight, what he termed an "evil and corrupt system". Hours after tendering his letter of resignation, in a brief interview with the Dissanayake said that he deeply regretted voting for the 18th Amendment and the present time is the most pertinent to commit himself for a change he envisaged when entering politics.


Q What is the basis of your defection?

There are three main points which were worrying me for quite sometime. One was that my responsibility as a Parliamentarian and Minister towards the people of Nuwara Eliya who elected me. In terms of State resources and other such allocations I continued to feel that there was an inequitable distribution of government resources. I could not serve my people with the aptitude with which I wanted to because of this. The second reason is the current Presidential system. I don't think you were old enough to remember, but when my late father and Lalith Athulathmudali left the UNP in 1990 one of their main concerns was the Presidential system and their voice caught the imagination of the people.

The people understood the vices of this system. 24 years after they did that, today there is a large cry against it. This system is the root of all evil that has engulfed this country, and the incumbent President is not willing to change these fundamentals.

The third reason is the levels of corruption that this country has witnessed. I understand that even in Western countries, corruption exists but the levels of corruption that this country has witnessed during the past few years have reached intolerable and unimaginable proportions. The large scale Chinese projects, unsolicited tenders that are being passed without batting an eyelid are but some of the examples. It makes it very uncomfortable for people like me to continue to support such a system and regime.


Q.But why now? You have been with the government all this while. Why did you not raise these issues before?

Of course I have. With regard to the first point of the inequitable allocation of resources, I have continually publicly agitated against it. With regard to the Presidential system and the corruption I have raised the issue at different forums and with the President himself. Obviously as a Minister of the government, I was bound to show restraint and could not make a public noise about it. But I have consistently followed and raised issue on the above three points at all times necessary prior to yesterday. Also I think the timing was right because of the proclamation of an unwanted and unnecessary presidential election. If the President had not called for this, life would have gone on. Mr. Sirisena would not have come forward as the Common Candidate and the status quo would have remained. But the very fact that this unwanted election was called was the opportunity given to many of us to raise our voice against what I believe is an evil and corrupt system.


Q.Despite your saying this now, you were one of the MP's who voted for the 18th Amendment, which gave power to the incumbent to seek election for a third time. Why did you do this?

It is something that I deeply regret. But what you must understand is that at the time the entire government machinery was working for it. It was very hard for a lone voice to be raised against it at that time. If you take a historical example, my father was one person who fought and was against the taking away of the civic rights of Prime Minister Sirima Bandaranaike, but in the end he had to toe the party line and vote for it. So, now is the best time to fight against this system and I will dedicate my life towards fighting against it.


Q.You spoke of corruption and nepotism in your letter of resignation, can you elaborate on them?

I will do that in detail at the press conference. As of now all I can say is that I took a decision based on my conscience.