---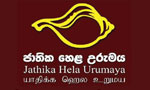 Our doors are closed and all the opportunities we offered President Rajapaksa to work with us have run out, Jathika Hela Urumaya (JHU) General Secretary Patali Champika Ranawaka today said.
"We are looking forward to having talks with common opposition candidate Maithripala Sirisena. We are expecting a positive response to our proposals from him," he said adding that they were ready to work with any group which was agreeable to implementing their proposals.
"We are ready to support any candidate, who is ready to remove unrestricted powers of the Executive Presidency, establish independent commissions and abolish the present electoral system," he said.
Mr. Ranawaka said the door for the discussions with President Mahinda Rajapaksa was no longer open because he had misled the JHU by promising to implement their proposals twice.
"The President had assured us that he would consider the proposals in future but we will not do the same mistake again," he said.
Mr. Ranawaka said they had no issues working with the TNA and the SLMC if they wanted to ensure good governance, though some people questioned as to how the JHU could stand on the same platform with these parties.
He said that they would rise against separatism or the national heritage was at stake.
Mr. Ranawaka, commenting on Ranil Wickremesinghe becoming Prime Minister asked how he could do so with just 43 seats in Parliament.
If he wanted to become the Prime Minister he needed 113 seats and for that he needed to get the support of the other constituent parties, Ranawaka said.
"Mr. Wickremesinghe will need to agree on a common programme to get the support of the other parties," he said.
Mr. Ranawaka said the country was caught in the clutches of a few racketeers and the economy was taken hostage by them. He said the JHU had come forward to rescue the six million people, who voted President Rajapaksa into power.
"The Parliament decisions and Cabinet decisions have been undermined by the needs of a few casino kings. The rule of the country has been taken over by them. Most of the ministers in the government are not satisfied with their positions. They do not need any conspiracies to cross over. The conspiracy is within the government," Mr. Ranawaka said.
He said the country's economy was bankrupt even though the government was boasting about economic progress adding that the country was running on loans.
"The government is paying Samurdhi allowance of Rs. 2,500 a month and distributing motorcycles on loans obtained at 7 per cent interest rate. The expressways are being constructed on foreign loans. We have no issues if they expressways, airports and ports are constructed without obtaining loans," he said.
Mr. Ranawaka said no one needed to be afraid of being taken to international courts for war crimes and that they would come forward to safeguard them despite political differences if anyone such as the President or Defence Secretaray Gotabhaya Rajapaksa or Sarath Fonseka were taken to international courts.
JHU Parliamentarian Ven. Athuraliye Rathana Thera said they were ready to support any candidate on policy agreement and would start their campaign within the coming week to defeat President Rajapaksa.
"Lot of people thought we would be divided but people could be divided on policy differences but the issue ahead us was something that whole country could agree on," he said.
Ven. Rathana Thera said no former President had misused State power for elections as was being used today.
"The President is only on lampposts not in peoples' hearts now," he said.
Former Western Provincial Council Minister Udaya Gammanpila said they relinquished their ministerial portfolios not to bring Chandrika Kumaratunga or Ranil Wickremesinghe to power but bring people to power by introducing Constitutional reforms.
Western Provincial Councillor Nishantha Sri Warnasinghe said it was not the JHU that created the present political turmoil but the President himself by announcing the snap election.
He said no one could govern a country or ministers by showing files.(Ajith Siriwardana and Darshana Sanjeewa)