---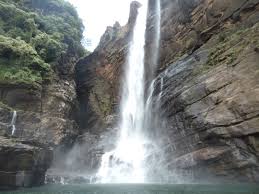 Laxapana Waterfall is an enchanting waterfall in Nuwara Eliya, Sri Lanka. At 129 meters high, it is the 08th highest waterfall in Sri Lanka and also it is recorded as the 625th highest waterfall in the world. This is much-loved waterfall captivating all who visit her. This beautiful waterfall is formed by Maskeliya Oya. People have returned, generation after generation to take in the spirit and presence of this Special place.

The name "Laxapana" derives from two Sinhala words, which is "Laxa" and "pahan or pashanav". The literarily meaning of "Laxa" is "hundred thousand" and meaning of "pahan or pashanav(pana)" is "rocks". So, the meaning of "Laxapana" is a "hundred thousands of rocks". This Laxapana Waterfall was known as "Veddha Hiti Ella (Vedahiti Ella)" at early days, which means that indigenous local tribesmen's lived place. And there are few legends of thisLaxapana Waterfall. One legend is that residents believe this place where Buddha mended his saffron robe when he was visiting Sri Pada. And also it is said that a golden receptacle appears beneath the bed of the water, when there is less water at drought times and locals have believed this wonder brings rain to this area. However, this amazing Laxapana Waterfall is located in an attractive location which has many hidden caves natural tunnels. It were used by early Sri Lanka's inhabitants are contained at the surrounding mountains of this Laxapana Waterfall. However, travelers can enjoy many fascinating views of this waterfall.

Especially at the cement step path to the base of this waterfall, travelers can enjoy a spectacular view of the surrounding Laxapana valley. Once travelers go down towards the lower slopes, they can hear a thunderous roar at a distance. This famous waterfall has plenty of flat rock pools at the wide base. Hence, Laxapana Waterfall is one of ideal locations to relax and revive in Sri Lanka. And the other most eye catching thing of this Laxapana waterfall is the white lace like waters fall down beautifully enveloping the base in a magical mist. Therefore, travelers those who travelers who wish to get a little wet and who love to have hiking, Nuwara Eliya and Ratnapura areas are some of best areas in Sri Lanka and this Laxapana Waterfall is one of the best destinations. And there are many other noteworthy things of bio diversity to see and enjoy there including Bambarakanda Waterfall, Bakers Waterfall, St. Clairs Waterfall and Diyaluma Waterfall. And there is wide range of eco-friendly affordable and best Nuwara Eliya hotels and Ratnapura Hotels available, out of endless selection of Hotels in Sri Lanka. So, let this pearl refresh and restore you, allowing a quality of nurturing and stopping time to be experienced!