---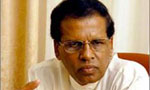 Health Minister Maithripala Sirisena told our sister paper in Gampaha that that there was talk going around that he was going to resign from the government.
The Minister had gone to the funeral of Silumina Consultant Editor Karunadasa Suriyaarachchi in Gampha as a representative of President Mahinda Rajapaksa and the Government, to express his condolences.
While he was there, a journalist attached to the Lankadeepa Newspaper questioned the minister on the reports that he was ready to leave the government and become the Common Candidate to compete against the incumbent President-:.
Q. Are the rumours spreading about your resigning from the Government true?
A. Such rumours are being spread.
Q. It is rumoured that you are resigning from your ministerial post.
A. Minister laughs.......
Q. It is heard that your belongings were being removed from your official residence.

A. Minster again laughs........

Q. There is another rumour that you are going to be the common candidate.
A. Laughs........
Q. Minister, Are you resigning from the Government or not?
A. Laughs.........
Q. Are you contesting as the common candidate?
A. Laughs.........
Minister got into his official vehicle saying "These rumours are the work of gossip-mongers". (K.G. Karunarathene and Kanchana Kumara Ariyadasa)