---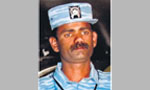 The late Suntharalingam Gajatheeban, alias Theiveegan's mother Sundaralingam Rajithamalar, was prevented from leaving the country today, sources said.
She had arrived at the Bandaranaike International Airport to take a flight to Canada on a valid visa to enter that country.
Sources said she might have been prevented from leaving the country because of the ongoing inquiry on Theiveegan. He and Gobi were shot dead during a clash with the Army at Padaviya early this year. They were alleged to have attempted to revive the LTTE.
Earlier, the 57-year-old Rajithamalar, who was arrested by the Terrorist Investigation Department soon after her son's death and later released after questioning, had a six-year visa to Canada stamped on her passport.
On October 6 Ponniah Selvanayagam Kajeepan alias Gobi's widow Kajeepan Sarmila had also been stopped at the Airport when she was about to leave for Switzerland.