---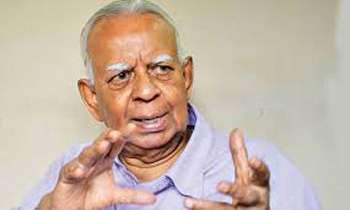 The Tamil National Alliance (TNA) had urged the diplomats in a meeting held yesterday to use their influence with whoever necessary to set things right and put the country in the right path, Tamil National Alliance (TNA) leader R. Sampanthan said.
The TNA had a meeting at the Opposition Leader's office with the fifteen members of diplomate community to discuss matters pertaining to the prevailing political crisis which initially started on October 26 this year. Diplomats from US, UK, Canada, Norway, Switzerland, EU, India, Korea, Bangladesh participated in the meeting.
Addressing the media after the meeting, he said they discussed how the then Prime Minister was removed, how the new prime minister was purportedly appointed, how Parliament was prorogued and dissolved and interim order of the Supreme Court suspending the dissolution of Parliament.
"The purportedly appointed Premier has not yet obtained a confident vote in parliament and proved majority in parliament despite various steps to secure majority," said TNA leader.
He said two motions of no confidence were passed in Parliament on two separate dates and subsequently, the steps taken to submit the signed documents of 122 members to the Speaker which then transmitted to Parliament and the President.
"It seems that the purportedly appointed Premier and the Government continue to function and eventually it would create turbulence in the country," Sampanthan said.
"The entire procedure into this has been done in violation of the Constitution and the law of the country. This a serious situation and that's why we urge the diplomates to bring this dangerous situation into the knowledge of the responsible bodies so that there would an end to this state of affairs," he added. (Sheain Fernandopulle)