---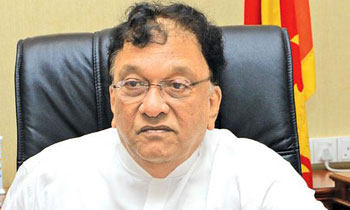 House Leader Lakshman Kiriella said today the recording of phone calls of COPE members was a breach of their parliamentary privileges and that the Speaker's permission should be obtained before seeking information on telephone calls of MPs.
He tabled the details of the telephone conversations between Mr. Aloysius and COPE members between May 6, 2015 and October 28, 2016.
The minister in his statement to parliament, said the CID or the Attorney General's Department should obtain the Speaker's permission before seeking information on the telephone calls of MPs but neither of them had done so.
He said the forensic report presented to the PCoI by the CID had stated that five COPE members had received calls from Arjun Aloysius, but if his intention was to contact these members hoping to make changes to the COPE report in his favour then he had failed with none of the members obliging Mr. Aloysius.
The minister pointed out that COPE had made one unanimous recommendation with even these five members agreeing that action must be taken against the wrongdoers.
He said the PCoI's mandate was to investigate and report and that there was no finding against any of these MPs.
"It is not a court of law and no one has been found guilty of any offence. This brings us to the question as to on whose instructions and for what purpose was a tab kept on the telephone records of these MPs. It is clearly a breach of their parliamentary privileges," the minister said.
He said communication between parliamentarians and constituents was privileged and added that there had been instances where administrative action had been taken to preserve the rights of the constituents communicating with MPs.
"The telephone had been recognised as the one of the means by which a constituent can communicate with MPs," the minister said and added that it was highly improper to publish the details of MPs' telephone calls as the PCoI had arrived at any conclusion.
"The confidential information had been put out for public consumption. Media is now in a frenzy giving all sorts of twisted interpretations to this information," he said.
The minister requested the Speaker to convene a party leaders meeting to discuss the matter and summon all parties including the MPs whose names had been mentioned and take appropriate action after a proper inquiry.
He said it was his duty to safeguard the privileges of all MPs irrespective of party differences and that they were not against the investigations but the information should be kept secret and submitted to the PCoI and it should carry out an investigation. (Ajith Siriwardana)