---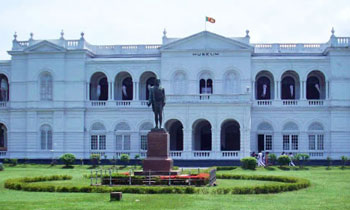 Mobile App on the Colombo National Museum with information of its galleries and exhibits would be launched on February 6 with the reopening of the Museum which underwent rigorous renovations for almost two years, National Museums Department Director Sanuja Kasthuriarachchi said yesterday.
She said the 140-year-old Italian style Colombo National Museum will be declared open to the public at a special ceremony on February 6.
Commenting on the renovations, Ms. Kasthuriarachchi said the task was hard and tenuous given the historic value of the building.
"This museum building is not just another building. It has been declared a historical monument. Therefore, the reconstruction work was detailed, scrupulous and time-consuming," she told Daily Mirror.
Ms. Kasthuriarachchi said Army personnel carried out the reconstruction work while the Central Engineering Consultancy Bureau (CECB) acted as the consultants and worked closely with the Department of National Museums and the Department of Archaeology throughout the renovation work.
She said engineering consultations were essential because of the museum building was not only historic but also consisted of many intricate structural designs such as arches and other work of art.
"We had to be careful not to make even a single change during the renovation carried out at an estimated cost of Rs.200 million. The army personnel did a splendid job in completing the work allotted to them with dedication and commitment," she said. (Lahiru Pothmulla)