---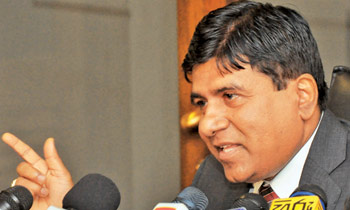 Justice Minister Wijeyadasa Rajapakshe yesterday criticized Finance Minister Ravi Karunanayake's statement that temporary resident visas would be issued to foreigners who invest a minimum of US$300,000 in Sri Lanka.
He said such a move would only make way for beggars to enter Sri Lanka and added that the statement was issued by the finance minister without consulting the Cabinet.
"The finance minister has no right to take arbitrary decisions. Not even the President knows about this. We would have opposed such a proposal if it was submitted to the Cabinet," the justice minister said.
He said US$300,000 was equivalent to Rs.45 million which is the amount spent to buy a luxury vehicle or just two perches of land in Colombo. "Providing privileges to foreigners who invest US$300,000 is absurd. We could encourage local investors, who are capable of investing Rs.45 million, instead. We have plenty of such investors in the country," the justice minister said.
He expressed concern that terrorists and drug peddlers could also make their way into the country, if temporary resident visas were granted to foreigners who invest a minimum of US$300,000 in Sri Lanka. "This is a matter of serious concern," the justice minister said. (Lahiru Pothmulla)