---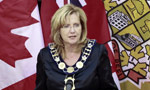 Linda Jeffrey, the Mayor of Brampton in greater Toronto, Canada has been criticized by her city councillors for moving ahead with plans to enter a 'sister city' agreement with Sri Lankan Municipality Vavuniya without the approval of Brampton City Council.
According to the Brampton Guardian, Regional Councillor John Sprovieri has said he doesn't believe the mayor has the authority to by-pass council. "She would be foolish to do so," he said reacting to a recent announcement from the mayor stating her intention to formalize relations with Vavuniya.
At a recent Economic Development Committee meeting, councillors debated a request that would link Brampton and Vavuniya via a 'friendship relationship agreement'.
Although several councillors expressed some skepticism about the benefits of such an agreement, committee members agreed to wait on a staff report before making a decision.
However, Mayor Jeffrey has issued a media release in late December announcing she would meet with Sri Lankan dignitaries in Brampton this month to formalize a sister city agreement with Vavuniya.
On January 11, members of Brampton's Tamil community, which is about 20,000, held a reception at Brampton city hall that also hosted Sri Lanka's Northern Province Chief Minister C.V. Wigneswaran.
The mayor had been on vacation and did not attend the ceremony. However, local politicians were disturbed that the mayor opted to act without council's blessing.
The mayor's camp reacted stating that such an agreement is still in its infancy and that council would ultimately make the final decision.
"We acknowledge there may have been some confusion — there are many steps prior to any agreement being signed," mayor's press secretary Jaskaran Singh Sandhu said.
Martin Medeiros, the councillor who spurred on that process, said the Vavuniya agreement would follow along the same lines as the arrangement with Ribeira Grande.
Brampton has formal relationships with several cities and international organizations around the globe, including the Chinese city of Xuzhou, Plano Tex., Miami Beach Fla., and Brampton, Cumbria, England.
Last October, Jeffrey signed an agreement to initiate the process to formalize economic, social or cultural relations with the Portuguese city of Ribeira Grande.