---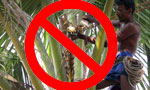 The Northern Provincial Council has adopted a motion prohibiting bottled toddy produced in the south from being transported and sold within the Northern Province.
The motion presented by Agriculture Minister of the Province P. Ainkaranesan has been unanimously passed at the last council meeting of the year held last week.
While presenting the motion Ainkaranesan said that the toddy brought from the southern parts of the country has been a threat to the toddy industry in his province.
He also alleged that those who had consumed the toddy brought from the south had developed allergic conditions due to various chemicals contained in it.
The Northern Provincial Council is to inform the motion adopted in the council to the Excise Department and to make a request to stop transporting bottled toddy from south to the north.(Romesh Madushanka)