---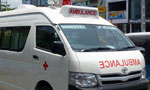 A total number of 479 incidents including 113 road accidents had been reported to the Colombo National Hospital on the New Year's Eve and the day before, hospital sources said today.
The hospital said that there were 12 cases related to fireworks.
Hospital's Public Relations Officer Pushpa Ramyani Soysa said road accidents, other bodily injuries caused by domestic accidents, domestic violence were the highest during the past two days.
However, she said there was a 13 percent drop from the total incidents compared to last year.
"A total of 179 persons have been admitted to the hospital, followed by 109 incidents of falling down, 45 domestic accidents, 48 cases of violence," she said.
She said the total numbers road accidents had dropped by 16 percent and domestic accidents by 43 percent compared to last year.
However, she said that accidents caused by fireworks had increased comparatively.(Darshana Sanjeewa)