---

A product of his era with gifted talents
One may wonder whether there is anything left to write on Eng. B. D. Rampala, the late General Manager of Ceylon Government Railways (CGR), because so much more has been written by individuals related to the railway sector as well as to the profession of engineering.
Eng. Rampala

et, this writer thinks that some more things can be said of this person considered by many as an Icon in the Sri Lankan Railways. What has been written so far mostly touches his persona from a one side: i.e. his extraordinary talents as an individual to dogmatically emphasize the importance of taking his character as an example.
This writer is of the view although not entirely anew, that, Eng. Rampala can best be understood in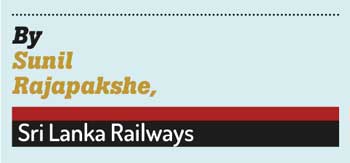 the light of international setting of his industry, within which he worked and his ability to make breakthroughs and introduce new technology into CGR (now Sri Lanka Railways or SLR). In order to achieve this target, he had to overcome conservatism inherited from more than two hundred years of colonial rule. The writer is interested in this piece because roles played by individuals such as Eng. Rampala in various industries make lasting imprints on the journey of mankind. Imprints left by Eng. Rampala as a technocrat and a change agent are etched in our society to date. It is worthy to remind ourselves and take cue from those legacies to do what's much needed in the country, especially in the public transport sector.

Biography
Bamunuarachchigae Don Rampala was born on 14 November 1910 and grew up at his ancestral home in Moraketiya Junction, Pannipitiya. He received his education initially at the English Mixed School in Kottawa. Then he went to Nalanda College Colombo and completed his Senior Cambridge Examination at Ananda College.
Ceylon Government Railways- Golden Era of B.D. Rampala and the Way forward by Ranjith L. Dissanayake states that Mr. Rampala entered the Colombo University College and completed his examinations in Pure Mathematics, Applied Mathematics and Physics. After a few months training in the Police Department he joined the Ratmalana Railway Mechanical Engineering Department of the then CGR as a Special Apprentice in 1931.
He sat and passed the Bachelor of Science Degree of the University of London as an External Candidate in 1933. He then got qualified as an Engineer on private study by obtaining the Associate Membership of the Institution of Mechanical Engineers (IMechE) in October 1935.
Eng. B.D. Rampala was appointed Chief Mechanical Engineer (CME) in 1949, the first Ceylonese (as Sri Lankans were then called) for the post. In 1955 he became General Manager of Railways (GMR) at the age of 45, a position he was to hold for 14 years up until his retirement in the late 1960s. He was the GMR having the second longest term of office.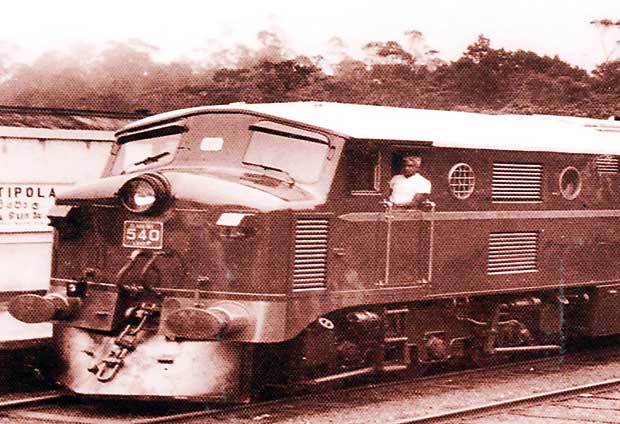 The striking fact that comes into light is that Eng. Rampala was not interested in becoming an engineer because of higher social esteem but because he understood it is the best area where he can perform to the full. That is, he chose the profession not due to just inner passion but it would suit to him.
Eng. Rampala was elected the President of The Institution of Engineers, Sri Lanka (IESL) in 1958. In fact, this was the year the bus industry was nationalized and the centenary of Ceylon Government Railways. He was also instrumental in establishing the Ceylon Transport Board along with Vera de Mel. Every year, IESL celebrates Eng. Ramapla's service to the nation with a Memorial lecture conducted at its premises, open to the public.

His Role
Like any other leading character Eng. Rampala was also a product of his time and era. But his ability to grasp new trends in the rail industry and commitment to apply them superseded the conservative ways of approaching and looking at new technology, which still holds its sway in general.
By the time Eng. Rampala was given the task of fulfilling responsibilities of CME at CGR, the British Railway had already been in existence for more than two hundred years. Historical records state that Britain is the first nation to use steam locomotives in rail transport, while the idea of wooden-railed wagon-ways originated in Germany as far back as in the 16th century.
By the late 1940s, the steam locomotives were though still in operation had started to show difficulties in their ability to cater to modern day needs because railway itself was becoming a popular mode of traveling.
So, in one way or other a breakthrough was a need of the day at the time. Railway professionals internationally were able to give a solution to the issue with the introduction of diesel locomotives.
Here comes the role of Eng. Rampala in CGR, which most of people including the engineering professionals in Sri Lanka would like to consider as if it was a result of pure individual talent.
Instead, this writer holds the position this man had no boundaries in keeping updated with the latest developments in technology and that made him an icon in the field. He had the courage to introduce the latest advances in railway to this tiny island which speaks a great deal of his acquaintance with the enormous knowledge in the subject. In fact, the all-sided knowledge of the field gave him the gift of courage to apply the same practically.


Then comes the role of the individual. Most of the railway nomenclature, like Udarata Menike, Yal Devi and Ruhunu Kumari made their first appearance in Eng. Rampala's day and in fact they are his creations. This is not a case of just giving names and signing birth certificates but came from a broad vision that railway should be a subject of public endeavour.
It has been a sort of annual practice that Eng. Rampala is memorialized but only from the side of his positives. But if the present day railway community wanted to get examples from this person so that they are able to get ready to modern day challenges – including electrification of the railway - Sri Lanka Railways (SLR) should give careful attention to his merits and demerits as well.
Because Eng. Rampala would have his own share of demerits coming in a long career in a professional area which always expects the best even from the most capable. After all he was human!
This area, however, cannot be discussed here in detail because of a major reason: The writer is not well-versed about his approaches to every issue to comment as that area is not well researched and recorded apart from some sort of tittle-tattle.
Similarly, his approach to administrative issues definitely emerged since he was the GMR at a tumultuous period created by political factors. In this vein, most of the writers so far have emphasized his administrative capabilities only categorically.
Considering these and other details which cannot be grappled in an article like this, Eng. Rampala should be taken as an example of a vision that human capabilities ultimately makes it possible to utilize scientific and technological advances for the common good of society.