---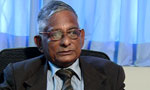 The Maxwell Paranagama Presidential Commission on Missing Persons has strongly recommended in its final report that in the event of Sri Lanka were to set up a purely domestic tribunal without the participation of any foreign judges, there must be an international technical assistance and observers to ensure the acceptance of the mechanism, the Daily Mirror learns.
The Commission has wound up its activities after the enactment of the Office of Missing Persons (OMP) and handed over its final report to the President last month.
"While it is the view of the Paranagama Commission that a Truth and Reconciliation Commission (TRC) should be at the heart of a reconciliation process, the Commission recognizes that there may well be cases relating to disappearances or abductions that may amount to a violation of International Humanitarian Law (IHL) or International Human Rights Law (IHRL). In such cases there may well be a need to mark the severity of such in offence or offences by means of a prosecution," the Commission said.
In addition, provision, may be necessary for a criminal trial in a High Court, in the event of failure of those appearing before the TRC to tell the truth.
"The recommendation of this Commission in this regard are the same as the recommendation made by this Commission in dealing with the Second Mandate Report where this Commission set out in the clearest possible in a language that the proposed mechanism should be a combination of a domestic TRC and a purely local judicial mechanism to achieve peace and reconciliation," it said.
It is for the political authorities to determine whether a South African-style Peace and Reconciliation Commission under appropriate amnesties for truth telling is the most appropriate mechanism or if the judicial model which combines the prosecution of 'those who bear the greatest responsibility 'coupled with a Truth and Reconciliation Commission will better meet Sri Lanka's post conflict needs. (Sandun A Jayasekera)