---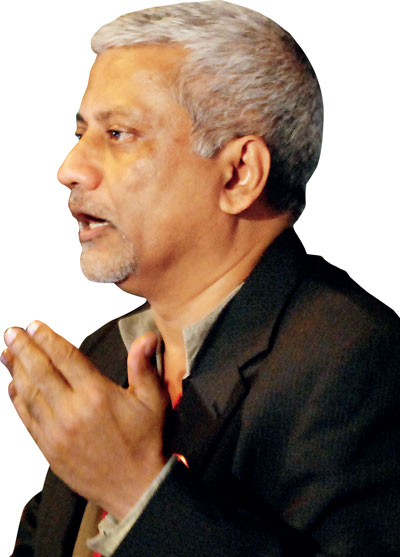 India is a lucrative market for SL
Prof. Rohan Samarajiva, an academic advocating a broad trade agreement with India, says the country needs to hone its negotiating skills through relatively small agreements with high degrees of flexibility such as ETCA before going into highly complex agreements, which will be on a take it or leave it basis such as TPP. He says India is a hugely attractive market. Prof. Samarajiva shared the following with the Dailymirror
Q The Free Trade Agreement (FTA) already in operation for 16 years. There are complaints about its shortcomings. What is the use of going for a more comprehensive economic partnership called ETCA with India in such a context?
The Indo-Sri Lanka FTA covered only goods. It also had an extensive negative list with excluded goods being larger on the Sri Lankan side. It was the first FTA for both India and Sri Lanka. It had several shortcomings as a result.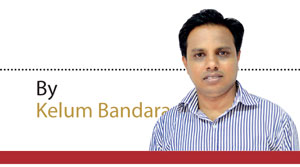 Some small corrections have been made over time, but larger issues such as introduction of a formal conflict-resolution mechanism and mutual recognition of certification authorities to address frictions around phyto-sanitary clearances required substantive changes. So the options were to open negotiations on revising the FTA or to move towards a comprehensive agreement that would include these changes. Given the importance of services and investment in today's economy, all trade negotiations include these areas. So it made sense to take the latter path.

Q If India is a land of opportunities, what are the reasons for our failure under the FTA in India?
I am puzzled by the claim of failure.
1. The purpose of a trade agreement is not that of achieving a trade surplus. It is to provide certainty for those who engage in trade. Some who claim failure point to the increasing deficit. Both Dr. W.A. Wijewardene have answered this point well, using data from official sources. The increased Indian imports have been of items excluded from the FTA by Sri Lanka, such as two, three and four-wheeled motor vehicles and petroleum products. This allows the government to levy higher duty on these items to manage its budget issues. These imports have displaced Japanese imports, despite the high duties. The effect was that our trade deficit with Japan would have decreased and Sri Lankan consumers would have obtained more value for money in terms of commercial and private transport. This cannot be described as a failure by any means.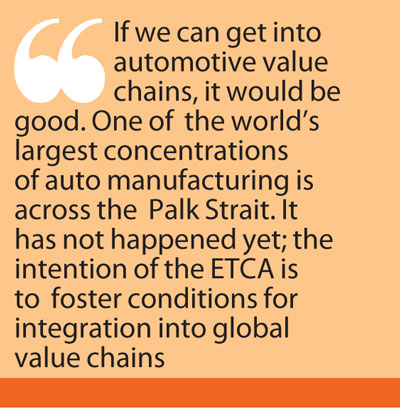 2. One may consider diversification of the exported items as an indicator of success of a trade agreement. This has happened to some extent, but not enough. This could be partly because of non-tariff barriers on the Indian side and partly because of weaknesses in Sri Lanka's private sector.

a) Some NTBs, such as different tax rates in Indian states could not be addressed within the trade agreement. This is being addressed by changes to the Indian Constitution under the current GST reform process. Examples of other NTBs, that can be addressed through trade negotiations, include the phyto-sanitary rules discussed above.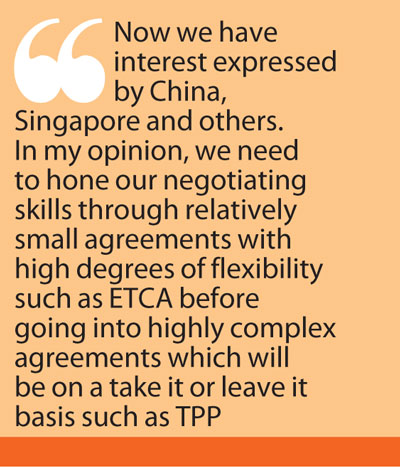 b) The lack of diversification of exports caused by weaknesses of exporters located in Sri Lanka is more complex. This could be addressed by attracting more FDI intending to export into the large Indian market. For this, the investment climate is critical. The ETCA and the China-Sri Lanka FTA would address this. In the current economic conditions, simple exports are declining in importance. What is happening is the rise of global value chains. Even now, Sri Lankan exporters are included in global value chains, such as those managed by Li & Fung. But this is in the apparel sector. If we could get into automotive value chains, it would be good. One of the world's largest concentrations of auto manufacturing is across the Palk Strait. It has not happened yet; the intention of the ETCA is to foster conditions for integration into global value chains.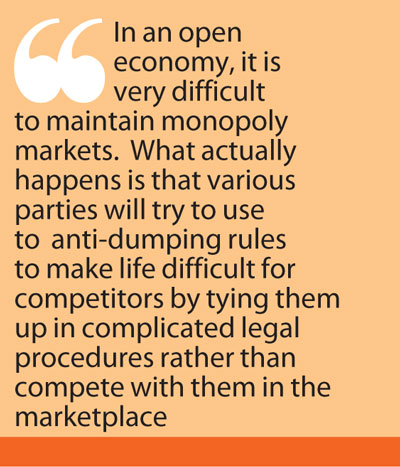 Q: How beneficial would it be for us to go for ETCA?
Theoretically, the optimal method of managing international trade is under multilateral agreements under the WTO. This dilutes the negotiating power of large economies and allows small countries to focus their limited negotiating resources on a few important tasks.

Because the 'Doha Round' commenced in 2002 has stalled and may even be described as dead, the major economies are rapidly moving into plurilateral and bilateral agreements, such as TPP and RCEP. Countries with firms that are directly competitive with exporters located in Sri Lanka such as Vietnam are entering into these plurilateral and bilateral agreements at a rapid pace and have demonstrated the efficacy of this instrument by rapidly increasing exports. If for example Vietnam is inside an agreement with a major economy that is of export interest to Sri Lanka while Sri Lanka is outside, it is likely that Vietnam will displace Sri Lanka. This has already happened with GSP+ and Bangladesh taking market share from Sri Lanka.

One has to negotiate with willing partners. India has been willing to enter into this agreement from 2003. Now we have interest expressed by China, Singapore and others. In my opinion, we need to hone our negotiating skills through relatively small agreements with high degrees of flexibility such as ETCA before going into highly complex agreements which will be on a take it or leave it basis such as TPP.
India is a hugely attractive market. If we have some preferential access, there would be greater interest in investing in Sri Lanka in order to export to India. Chinese firms, for example, are very keen about ETCA being finalized as this would impact their investment and scale decisions. We would also become more attractive for other trade agreements if we had ETCA.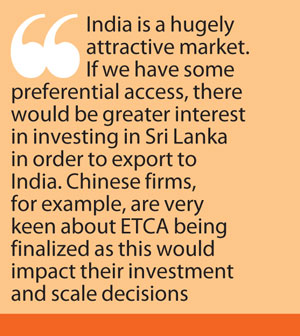 Q: How do you feel that existing issues of FTA could be resolved under ETCA?
Under "early harvest" provisions, conflict-resolution and mutual recognition agreements for entities providing conformity certificates to satisfy phyto-sanitary requirements have already been identified for
early resolution.

Q : There is an allegation that no proper public discourse is available on the ETCA. What are your views?
I would state, contrarily, that no economic policy issue has been discussed at this depth in the media. Some who are uninformed argue that the negotiating texts should be public. This is never done in international trade agreements. The government has promised to place the final text before Parliament. That is as open as feasible.

Q : How feasible is it to unchain economic liberalization from national politics?
Economic liberalization is what took Sri Lanka out of the 2-3% growth rates and away from the hal polu - miris polu economy where the government micro-managed the lives of our people and our people suffered hunger and deprivation. Economic liberalization is national politics.

Q : How do you see the perceived plan for opening up the service sector of Sri Lanka under ETCA for Indian Professionals? And there is a perception that Indian professionals will flood the local market opting for a meagre salary leaving the locals in the lurch. What are your views?
The perceptions are wrong, and have been created by persons who are uninformed or who wish to derail trade liberalization for reasons other than consumer welfare, reversing the decline of exports as a percentage of GDP and the creation of high-quality employment.

Immigration laws are not abolished by service trade agreements. The only legal arrangement that permits free movement of labour is the European Union. This is a unique effort to create a single market, which has no relevance to our conditions.

Even if Mode 4 Services Trade is opened up, all that would be done is to provide certainty about the rules. Under the positive list approach that is used in service-trade negotiations, rules apply only to specific named sectors. If a sector is not specifically included it remains outside the scope of the agreement. When a sector is included, one could include very specific rules about which professionals are permitted to move, whether their spouses could work, whether they could work in other similar firms in the country and so on. Examples of these rules may be seen on the web. India-Singapore CECA is a good example. So are Sri Lanka's commitments under the General Agreement on Trade in Services that have been operational since the 1990s.

Today, many professionals come into the country to work under the existing immigration laws. BOI companies obtain letters from the BOI that result in work permits being issued by the Department of Immigration and Emigration. Entities not under BOI have to obtain letters from Ministries. All that ETCA will do is to provide greater certainty for companies in sectors that have been specifically opened up under the positive-list approach.
Above would be beneficial in terms of improving the conditions for Sri Lankan firms to be integrated into global value chains. However, the government has indicated that Mode 4 will be excluded from ETCA.

Q : In Sri Lanka, there is an argument that the house should be out in place before striking trade deals with other countries. How true is it?
I assume this question means that we have to get all our internal problems sorted out and reforms completed before entering into international trade agreements.

This is incorrect. Sri Lanka's telecom reforms began in 1996 with actions such as the issuance of licenses to direct competitors to SLT, the partial privatization of SLT and the creation of an independent regulatory agency. The GATS provisions affecting basic telecom services included a regulatory reference paper. The commitments made by the government gave comfort to foreign investors making risky, long-term equipment in a war-torn country. In addition, the regulator was able to leverage the WTO commitments in its efforts to create competitive conditions. The international trade commitments and the pressure they created assisted in the reform of the sector.
Parallel actions on international and national fronts are how reforms actually get done. To argue for one to be completed before the other is commenced is in effect an argument to block reforms.

Take the example of the Sri Lankan shoe manufacturer DSI. It was not the many decades of protection that enabled it to become a confident and efficient player in the domestic and regional markets, but the external pressures resulting from the opening up of the Sri Lankan market in the 1978-94 period. Under protection, Bata was dominant. Now the roles have
been reversed.

Q : What is your position on the laws we have for dealing with transnational trade?
There is no need for new laws. All that we need are good negotiators. Negotiating multiple trade agreements at the same time imposes a huge burden on our government. The fact that we had stepped back from trade negotiations since 2008 while all other countries were gaining experience in trade negotiations did not help.

Q : How should we improve anti-dumping laws to block cheap and inferior quality products flooding our markets?
It's too early to enact anti-dumping laws. The basic premise of anti-dumping is that a supplier will sell below cost in order to drive out competitors; consolidate a monopoly position; and then jack up prices to make supra-normal prices and recover the losses incurred during the dumping period.

In an open economy, it is very difficult to maintain monopoly markets. What actually happens is that various parties will try to use them to anti-dumping rules to make life difficult for competitors by tying them up in complicated legal procedures rather than compete with them in the marketplace. The technical skills needed to conduct effective anti-dumping inquiries that are immune to these manipulations are considerable. In a country that lacks effective regulation and competition enforcement, this is a lower priority.