---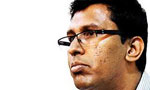 Jathika Hela Urumaya (JHU) today warned the Govt not to get entangled in a bush of thorns by trying to introduce Constitutional reforms which had no consensus except for electoral reforms, the only possible reform at present.
JHU National Organizer Nishantha Sri Warnasinghe said the Govt should not implement any Constitutional reforms which could pave the way for division of society despite the reforms proposed by various factions.
He said JHU would agree only on bringing in electoral reforms and that other matters relating to the division of power, unitary State and religion should not be amended at the moment.
He alleged that the Joint Opposition (JO) was spreading a false opinion in the country based on the report of the Committee on Constitutional Reforms that the Govt was going to introduce Federal State, changing National Anthem, National Flag and introduce a secular State and added that the report had only introduced some options.
Mr. Warnasinghe told a news conference that the JO's opinion was baseless because the President had clearly said in his election manifesto that he would not amend any clause in the Constitution which needed to be approved through a referendum.
"The claims of the JO that the Govt was going to amend matters related to the above were baseless. They have to be approved in a referendum and get a two thirds majority in Parliament," he said.
He said the JO was making these allegations taking some negative points proposed by the Committee on Constitutional Reforms and added that the report had formulated by considering the suggestion of more than 3000 people across the country.
He said it was up to the Constitutional Council to decide whether to accept those proposals on Constitutional Reforms and said JHU does not approve all the proposals made by the Committee. (Ajith Siriwardana)