---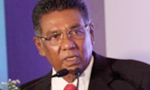 All the lands except the ones occupied for the purpose of security in North and East will be released while paying compensation for the lands that were acquired, Defence Secretary Karunasena Hetttiarachchi said.
He said this at a function of releasing 201.3 acres of land for resettlement within the High Security Zone in Valikamam North.
"President Maitripala Sirisena and Prime Minister Ranil wickremasinhe are trying their best to resettle people living in welfare camps and other places in their own lands. We have come here on their instruction. Now moves are under way to release all lands except the ones indispensable for the defence in North and East," he said.
"The security forces are working hard in this respect. However we have not identified the land area required by the the forces.Studies are being undretaken on this subject. However compensation will be paid for the lands if they are acquired," the Defence Secretary said.
"We can't rush releasing the lands for resettlement which ought be done methodically in a staggered basis. Those landless people sheltered in welfare camps will be given lands by Jaffna District Secretariat," he said.(Sornakumar Soruban)