---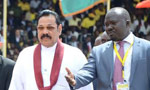 Former President Mahinda Rajapaksa is entitled to be facilitated by the state for his travel expenses on official tours such as the Uganda trip, according to the law governing benefits for retiring presidents in the Presidents' Entitlement Act no. 4 of 1986, his Private Secretary Udith Lokubandara said today.
Speaking to the Daily Mirror, the Private Secretary to the former president said there was no preference given by the Foreign Ministry to Mr. Rajapaksa, in deciding to bear the travel expenses of the Uganda trip.
According to the Presidents' Entitlement Act no. 4 of 1986, there shall be provided to every former President, official transport and all such other facilities as are for the time being provided to a Minister of the Cabinet of Ministers.
Amidst the controversy about the state sponsoring the Former President for his Uganda trip following an invitation of the Ugandan government, Mr. Lokubandara said it was not a private trip, but was to represent the country at the inauguration ceremony of Ugandan President Yoweni Musaveni who was sworn in for his fifth term as President.
"His recent visit to Thailand was a private trip and therefore we did not inform the Foreign Ministry at that time. All the expenses were born by him," Mr. Lokubandara said.
He said there should not be so much fuss about the state money given for the airlines tickets of Mr. Rajapaksa, because it should be done for any former president's official tour.
However, he said the Foreign Ministry declined to bear the expenses of accommodation, food and security and only agreed with conditional facilities of travel fares.
"Former President Mahinda Rajapaksa is entitled to have an office for him as same as the former president Chandrika Kumaratunga. When the office received an official invitation from the Ugandan government which has directly addressed and invited only Mr. Rajapaksa, we informed the Foreign Ministry. Foreign Minister Mangala Samaraweera himself telephoned and informed us what procedures to follow. Everything was done in line with the normal protocol. No favoritism involved," Mr. Lokubandara said.
He said after the Foreign Minister approved the tour, Mr. Rajapaksa's office confirmed the Ugandan government about his attendance and requested them to provide him with other facilities.
Further, he said that the entourage comprising Gamini Lokuge, Dhanasiri Amaratunga, Lohan Ratwatte and some of Mr. Rajapaksa's personal staff members bore their travel and other expense by themselves.
"It was a state visit as a former president of Sri Lanka who is having very good connections with foreign countries. Everyone talk about these few benefits he is entitled to, and not the due facilities. Even though he should be given an official residence, the government has not given him one. We are requesting and requesting, but to no avail," he said. (Piyumi Fonseka)