---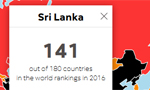 Sri Lanka has moved up 24 notches and ranked at 141st place in the 2016 World Press Freedom Index compiled by the Reporters Without Borders - Reporters sans frontieres (RSF) which was published on Wednesday.
The country was ranked at 165th place in the index in 2015. The index report published on RSF website said Sri Lanka had freed itself of the reign of terror imposed by the Rajapaksa family and its allies by electing Maithripala Sirisena as President.
"The new government has said journalists and cyber-dissidents would no longer have to fear reprisals for their political views or for articles on sensitive subjects as corruption and the military. The Tamil media, long a target of the authorities, including after the official end of the civil war in 2009, have seen a decline in harassment and hope it will last," it said.
However, the index showed that there has been a deep and disturbing decline in respect of media freedom at both the global and regional levels.
Finland ranked 1st in the index as the country with the most freedom for journalists followed by the Netherlands, Norway, Denmark, New Zealand, Costa Rica, Switzerland, Sweden, Ireland and Jamaica.
Eretria made it to the bottom of the list followed by North Korea, Turkmenistan, Syria and China.
Sri Lanka's neighbouring countries India ranked at 133, Pakistan at 147, Afghanistan at 120, Bangladesh at 144, Nepal at 105 and Bhutan at 94.
The Index measures the level of freedom available to journalists in 180 countries using the criteria of pluralism, media independence, media environment and self-censorship, legislative environment, transparency, infrastructure and abuses.