---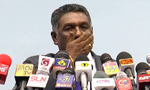 The discovery of a suicide kit and explosives in Vallakulam, Chavakachcheri wasn't a threat for the national security, Defence Secretary Karunasena Hettiarachchi said today.
Addressing a press conference, Mr. Hettiarachchi said there's a huge gap between the national security and the discovery of such explosives.
He also said there could be such items, which had been abandoned and gathered during the war period.
"Discoveries of such guns and explosives are frequently reported to us from these areas during the past years. Especially the Police are carrying out investigations regarding them and it is a responsibility of them to solve such issues. The defence forces won't work on such matters," he added.
He said the Defence Ministry's responsibility was to estimate and validate the threat to the national security after obtaining such reports from the Police.
"If the Police were in need of any support from the defence sector, we are ready to help them," he added. (Kalathma Jayawardhane)
Video by Buddhi