---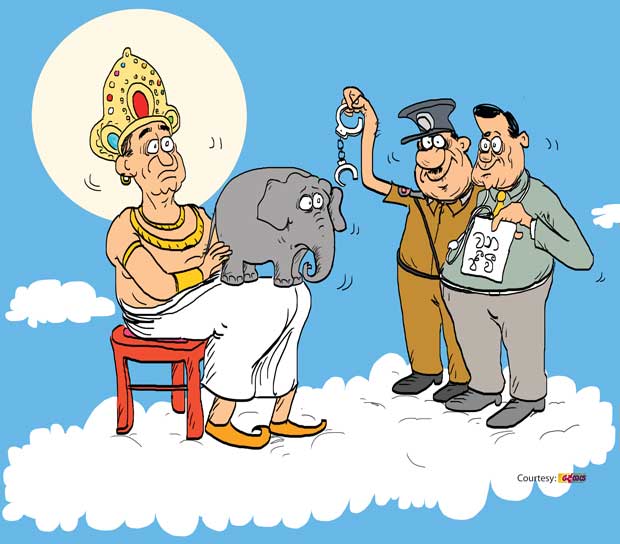 The Wildlife authorities these days are out on a relentless search for elephants held in captivity illegally.

A team of Wildlife officials reinforced by a security escort the other day visited the precincts of a Devalaya in Ruhuna looking for an elephant reportedly held in illegal custody there. This devalaya visited by thousands of devotees annually is dedicated to a highly venerated deity believed to be commanding unusual powers.

The Nilame and Kapuralas of the devalaya who met the Wildlife officials admitted that they were having in their custody an elephant offered to the all-powerful deity of the devalaya by the previous government. "Therefore, the tusker really belongs to the Deviyanvahanse and He is the real custodian of the animal. And we have listed it in an inventory of the possessions of the Deviyanvahanse," they told the Wildlife officials.

The Nilame, the Chief Custodian of the Devalaya added: "You may take away the elephant if that is your wish or decision. But, we have to let you know that we have to report to the Deviyanvahanse that you have taken away the animal."

The Wildlife officials taken aback by this new development held a brief council in haste and decided to appraise the higher authorities of the situation and move in the matter after getting fresh instructions.
The Nilame again addressed the Wildlife officials who were about to leave. "You, gentlemen here are on official duty and we don't propose to obstruct your duty in any way. But I wish to ask you to think of the dire consequences that could befall you all if you dare take away something that belongs to the Deviyanvahanse."